Friday, October 6, 2023 · 4 min read
Introducing Alby: The Bitcoin-Friendly Payment Solution
Assantewa Heubi
Content Creator
Stress-Free Calendar Scheduling
Calendar scheduling infrastructure products come in all shapes and sizes. Some are targeted toward the needs of individuals, while others focus on serving businesses. Cal.com is unique because our niche is everybody. Rather than focusing on serving one specific demographic, Cal.com has built a customizable, open-source, privacy-focused, and secure product. Our scalable and customizable offerings can grow and change according to each user's needs. This means Cal.com uniquely suits today's dynamic and ever-evolving economic landscape.
A person can start with a free Cal.com account, and after their business or startup receives additional investment, switch to our team or even platform enterprise-level offerings. This means that users can implement our product and start saving time before they've made it big.
One of the most significant differences between Cal.com and our contemporaries can be found in our options for monetization. This means that regardless of whether you're a free or paid user, you can charge for your meetings.
We simplify monetization by including a payment section within our app store where you can go and install the payment gateway of your choice. Traditionally, we've offered fiat currency-based payment options like Stripe and PayPal. However, thanks to our collaboration with Alby, Cal.com users can now accept payments via Bitcoin.
Who is Alby?
Alby is your companion for Bitcoin payments on the web and, therefore the ideal solution for anyone who wants to accept Bitcoin-based compensation. Even compared to some of the payment "giants" like PayPal and Stripe, Alby comes in at a much lower processing fee. This product lets you connect your wallet to easily receive and send payments via Bitcoin and Nostr apps. Signing up for an Alby account means creating a Bitcoin lightning wallet to access one-click logins and transactions.
Creating an Alby account allows you to plug in your personal Bitcoin wallet to multiple apps. There is no need to deposit and withdraw funds anymore. Instead, you can spend and receive Bitcoin directly with your own wallet. If you wonder where to use the new inflows from your bookings on Cal.com, connect the Alby browser extension or discover many more apps. 
To learn more about Alby, check out their website and guides. 
Both of these spaces, including the dedicated page for developers, are filled with informative and accessible information that will help you understand how you can benefit from incorporating Alby as a payment solution.
If you are already familiar with the benefits of using Alby and want to start combining it with the power of Cal.com scheduling infrastructure, then scroll down to the next section and follow the tutorial below.
Install Guide: Cal.com + Alby
Are you ready to monetize your meetings? Follow the steps below if you want to use Cal.com 's calendar scheduling infrastructure with Alby to set up Bitcoin-friendly bookings.
If you don't have a Cal.com account, visit https://cal.com/signup to create one.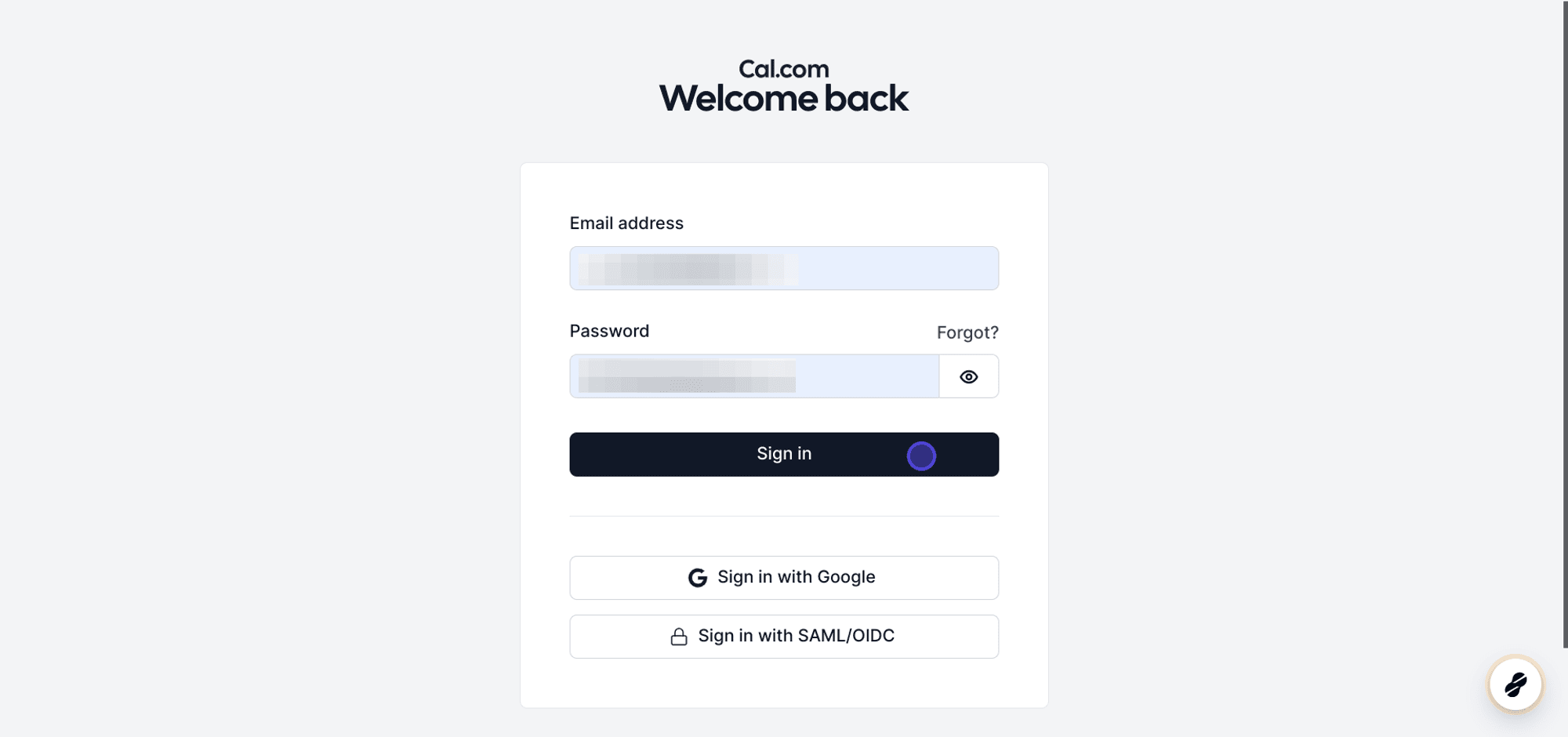 Clicking on this tab will take you to the Cal.com App Store.
If you're familiar with our app store and want to save time, type "Alby" in the search bar.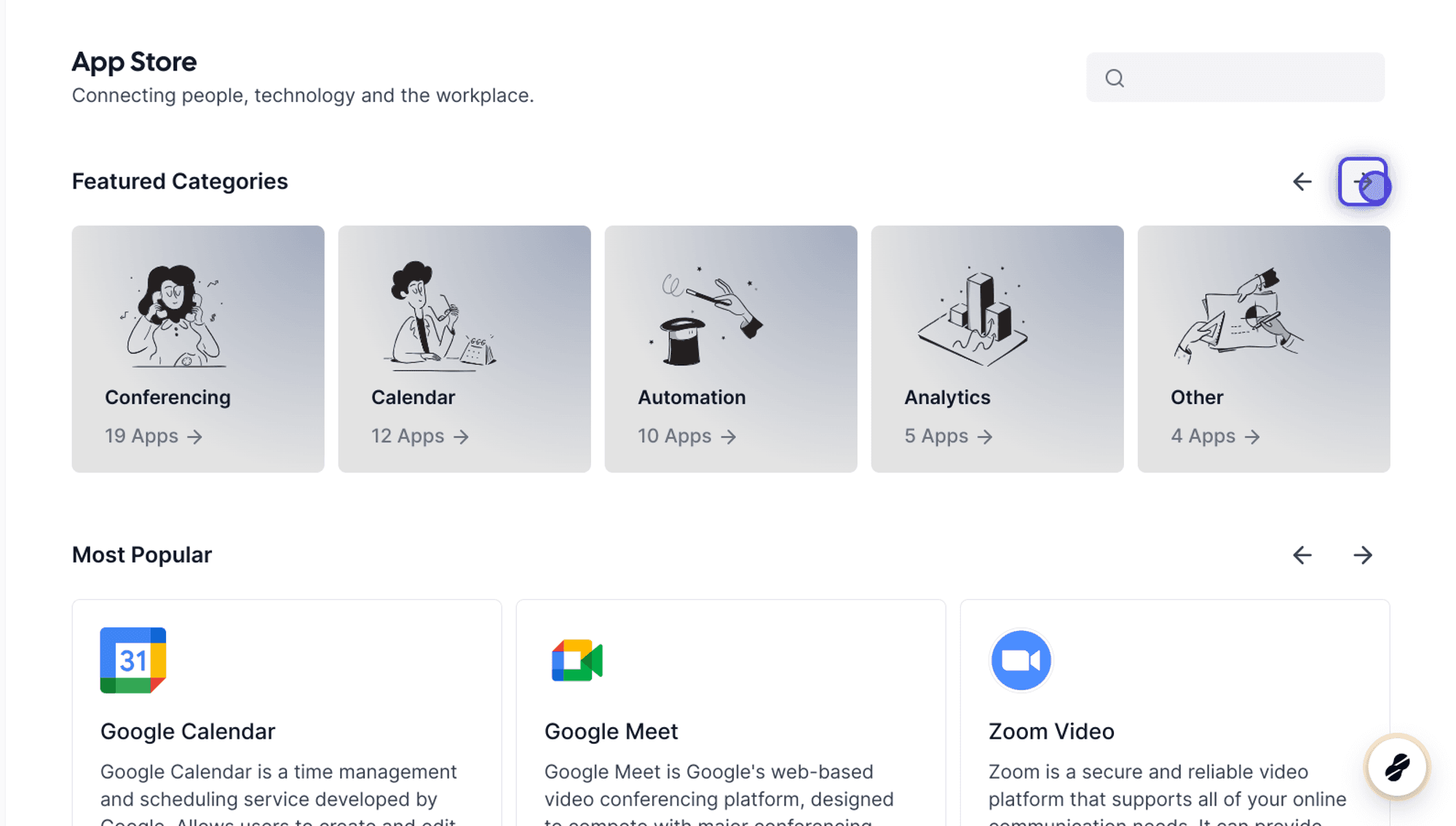 Doing this will show you all of Cal.com 's payment apps.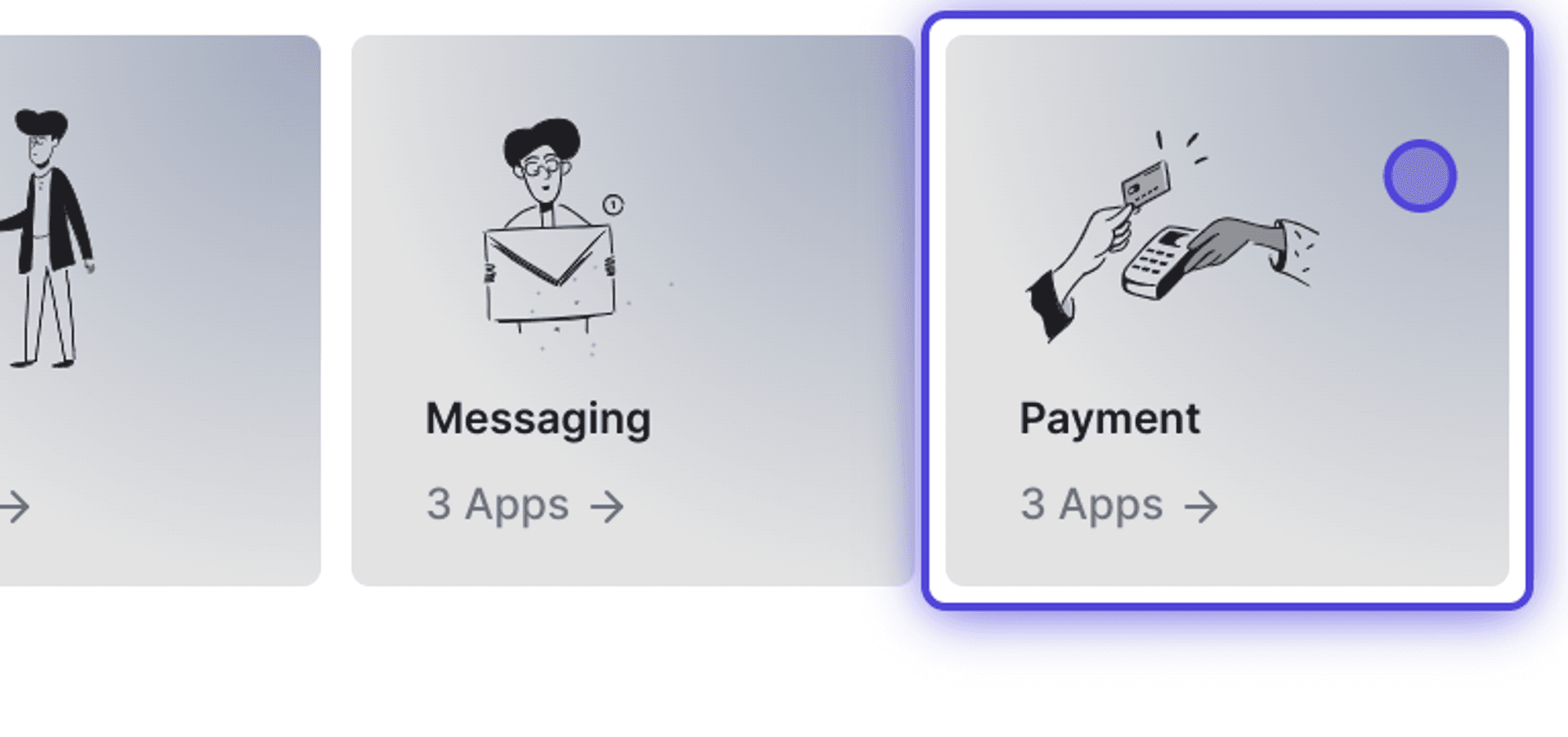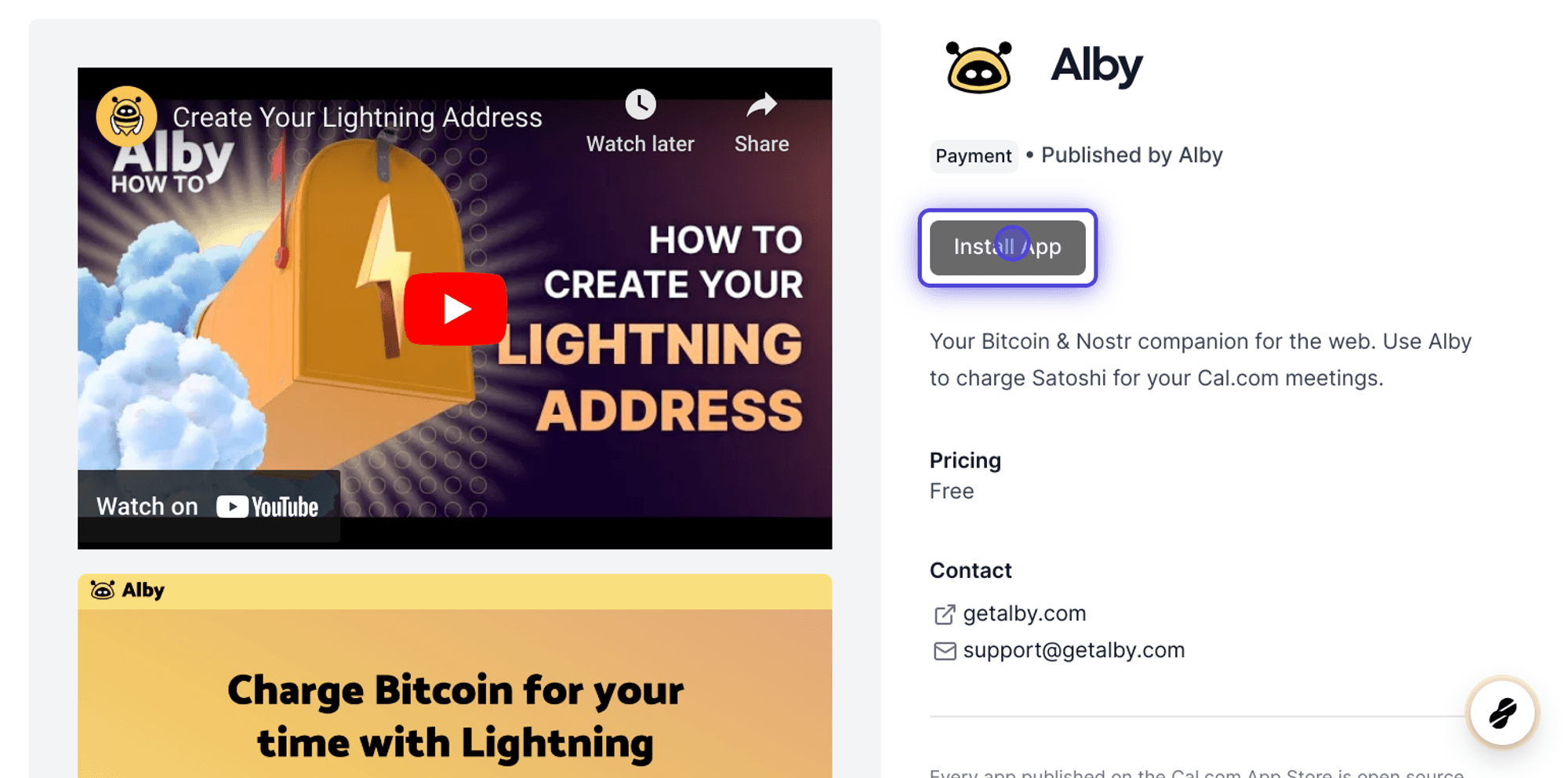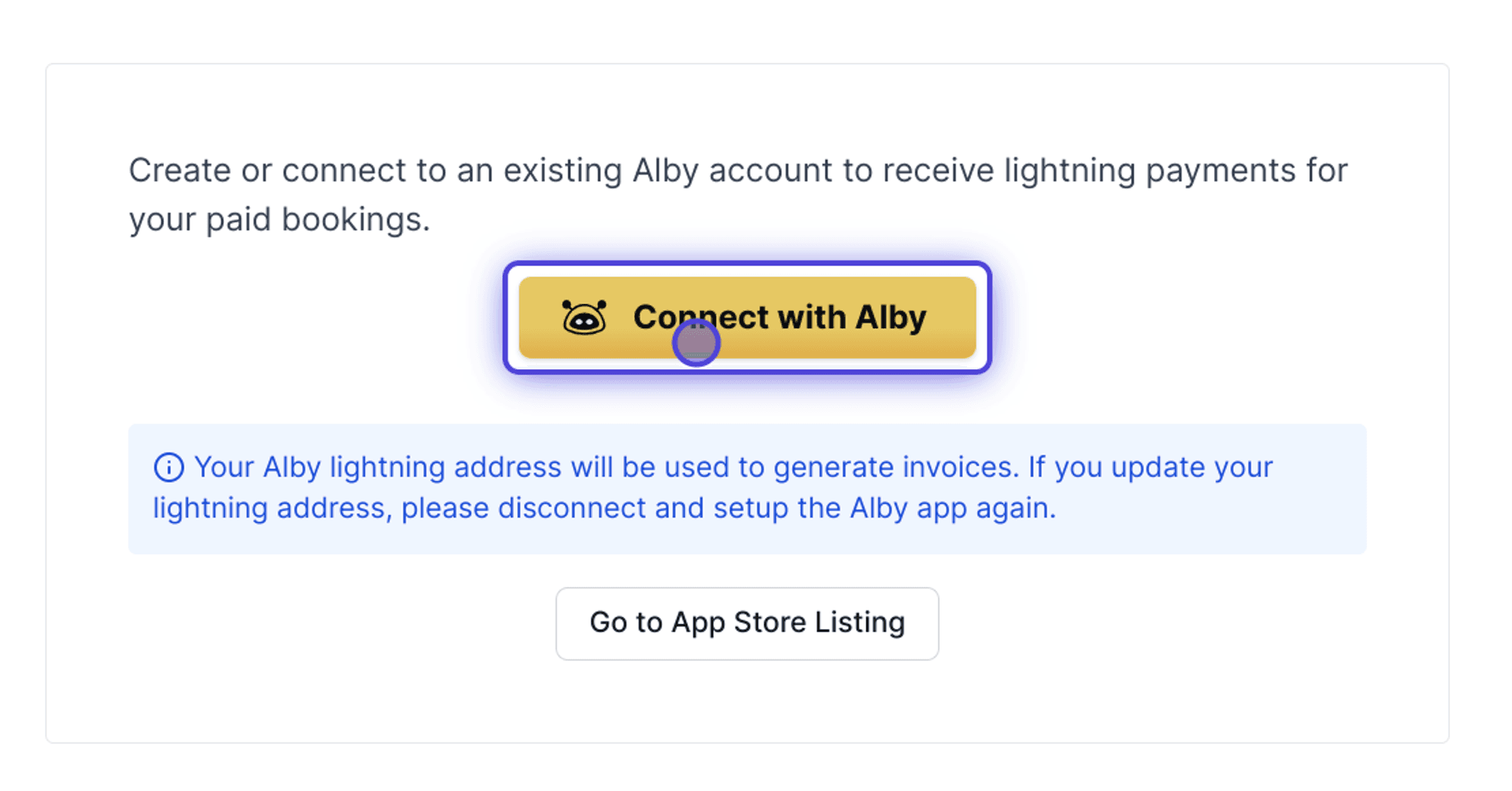 8. Cal.com will now ask for permission to access your Alby account.
If you don't already have an Alby account, you'll be offered the option of creating one (it only asks for your e-mail). You'll be prompted to log in if you have an Alby account. Once this step is completed, you'll be redirected to your Cal.com dashboard.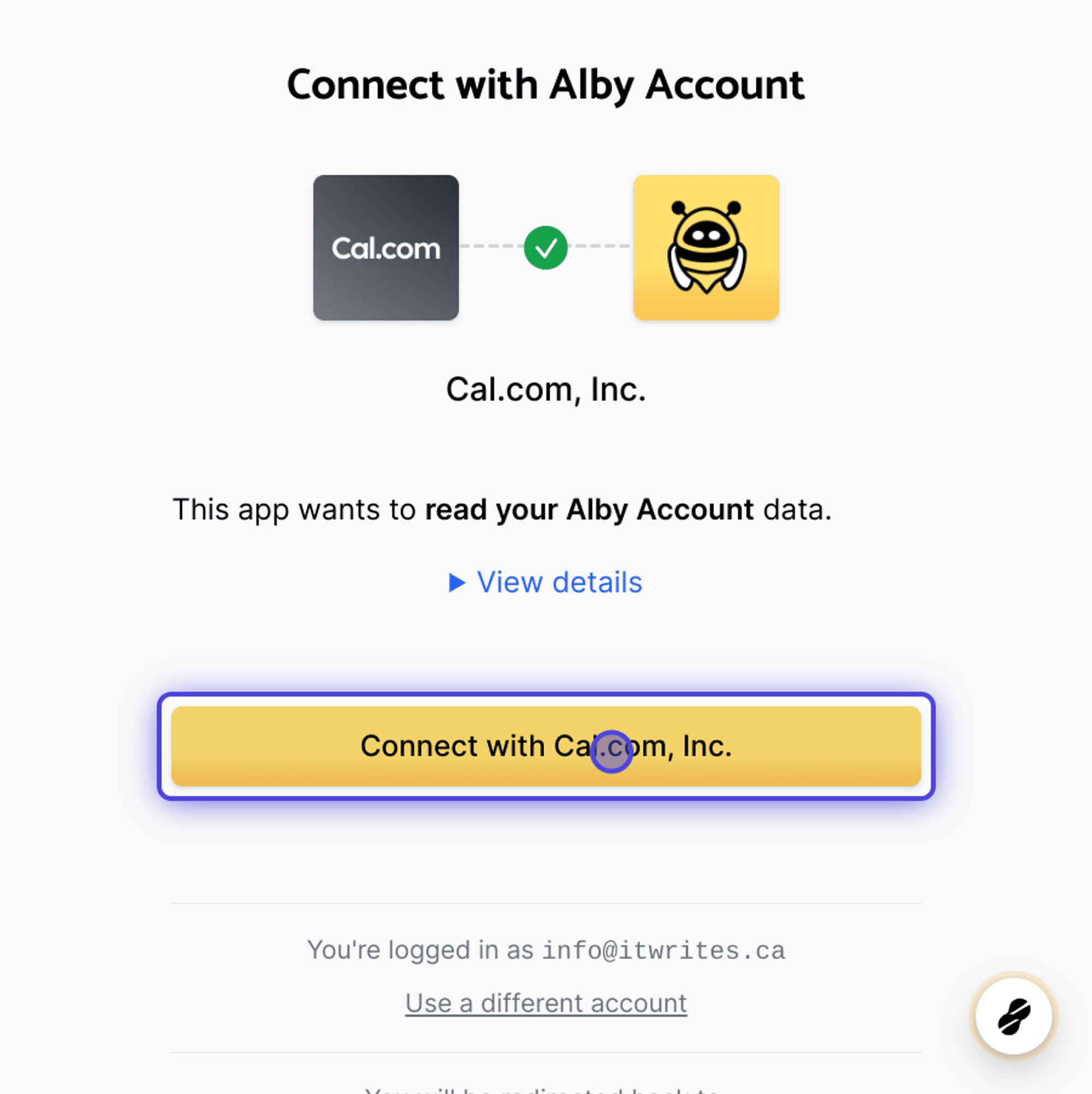 You can choose from an already existing event or create a new one.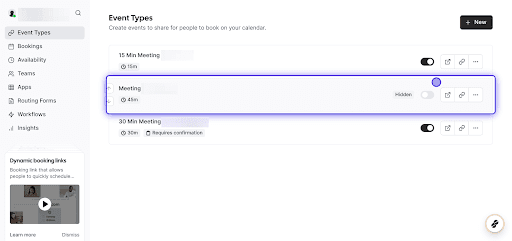 10. Select the "Apps" tab within your event-level dashboard.
This will show you a list of the apps you have installed.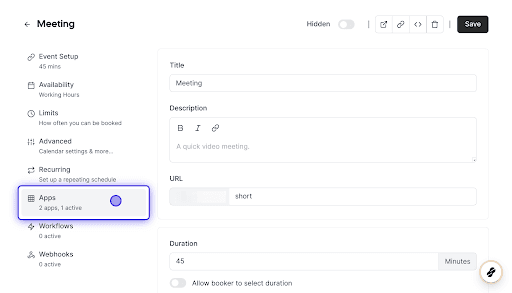 11. Activate Alby by switching the toggle to the on position.
The toggle will change from grey to black after activation.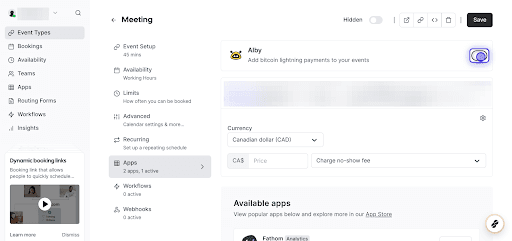 12. You can now set your price.
In the Bitcoin currency, sats is its smallest unit (100,000,000 sats = 1 BTC). In the "Price" field, you can configure how many sats you will charge for this meeting. This price is paid upfront by the attendee. Remember, this price only applies to the event you're currently editing. You'll have to edit each one individually to configure payment across multiple events.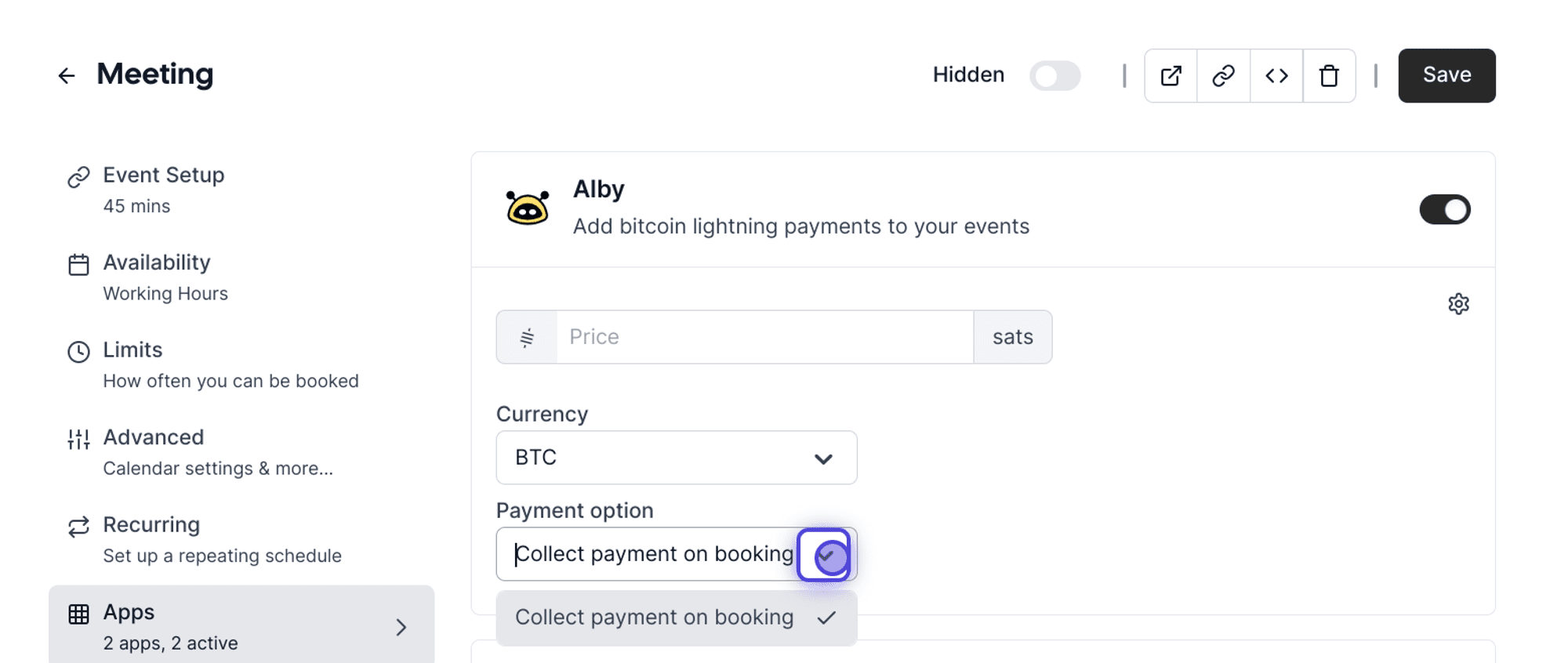 13. Finally, click the save button to ensure all your customizations are pushed through.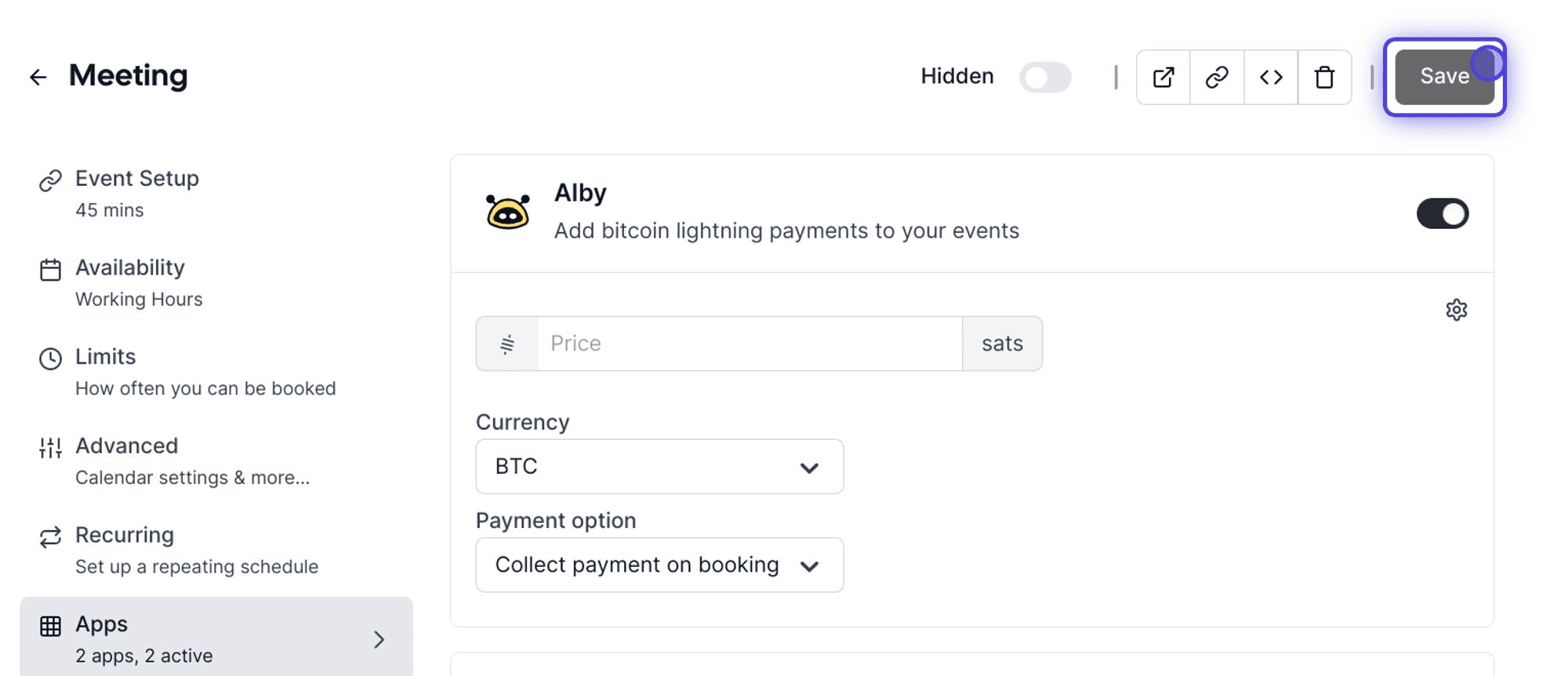 TLDR;
Using Cal.com with Alby is a simple and efficient way to combine the power of open-source calendar scheduling infrastructure with a reliable and efficient payment gateway. Now, you can easily schedule your appointments and pay for meetings or get paid in Bitcoins.
These two platforms work together to reduce all the complexities and stressors related to appointment booking and payment processing.
This means you now have more time and energy to focus on your next great idea.
Let people book when it works for both of you