Friday, September 16, 2022 · 6 min read
Cal.com launches v2.0
Bailey Pumfleet
Co-Founder, Cal.com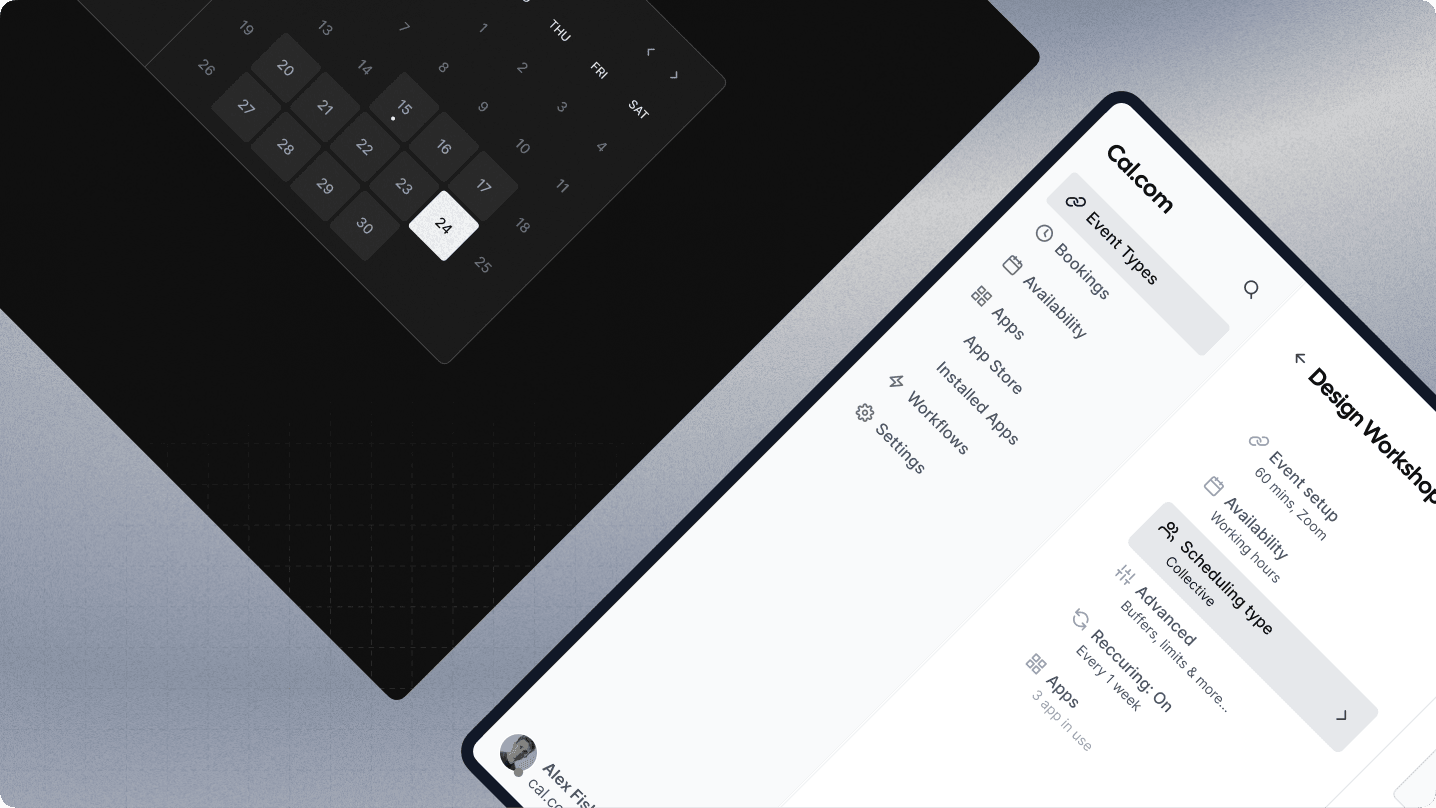 We're incredibly excited to announce Cal.com v2.0, exactly 12 months after we rebranded from Calendso to Cal.com and released our v1.0. Since then, we've been hard at work building a huge amount of features. Eventually, we needed a better way to present all of the functionality that we packed in, so we went back to the drawing board and redesigned the UI from the ground up for the 2.0 launch. In addition to our 2.0 launch, we have industry changing news to announce.
We'd also really appreciate it if you could head over to our Product Hunt launch and show some love!
Cal.com for individuals is now free. Completely free.
We started with the goal of making scheduling accessible to everyone, and by doing so, connecting a billion people by the year 2031. We've already seen the massive impact that Cal.com has on businesses around the world, and we have really enjoyed working with many exciting companies that are powering their scheduling with our software.
When we first started Cal.com, the long-term vision has always been to build in the 'scheduling infrastructure' space, which if you're not already aware, is the term we use for powering the scheduling behind a variety of apps and software, much like how Stripe powers payments behind the scenes of many businesses. 
The scheduling infrastructure space is where Cal.com really shines. With our open-source and developer friendly nature, we are already a market leader in terms of functionality within scheduling infrastructure.
Despite scheduling infrastructure being our long-term goal, we were amazed to see how well the product picked up in the consumer space. Over 30,000 users began signing up after the v1 launch a year ago. 
We've seen so much positive feedback from the community who have just started scheduling with Cal.com or switched from another scheduling software. That's why over the last year, we switched focus to rapidly building a ton of features that we know consumers would love, like our market-leading app store, our advanced availability rules, and many more.
Thanks to our growing enterprise business, we're excited to make the consumer product completely free for individuals.
Making the consumer product free is a complete win-win situation in our eyes, because we are enabling so many more people to start scheduling meetings with absolutely no limits on things like event types or number of bookings. 
We are now going to be offering more features than any of the other consumer scheduling products on the market, with a price tag of absolutely zero. 
Our vision is to build scheduling infrastructure for absolutely everyone, and what's more accessible than free?
A brand new UI
Over the course of the past year, our development team has been shipping features at lightning speed. We've been looking at all of the features and improvements that the community has requested, and worked through those requests at an incredible pace (averaging 150-200 features, improvements, and bug fixes per month).
Eventually, we built up a huge amount of features. When setting up an event type, for example, if you expanded the advanced options, you'd be presented with a ton of different configuration options and features that might be a bit overwhelming. 
Hence, we decided to go back to the drawing board and redesign the features with a greater emphasis on user experience.
This turned into a complete design and user experience overhaul, and we couldn't be happier with how it's turned out. The product feels more polished, and we've added more animations, tooltips, and levels of interactivity that make the product so much more natural to use.
New Website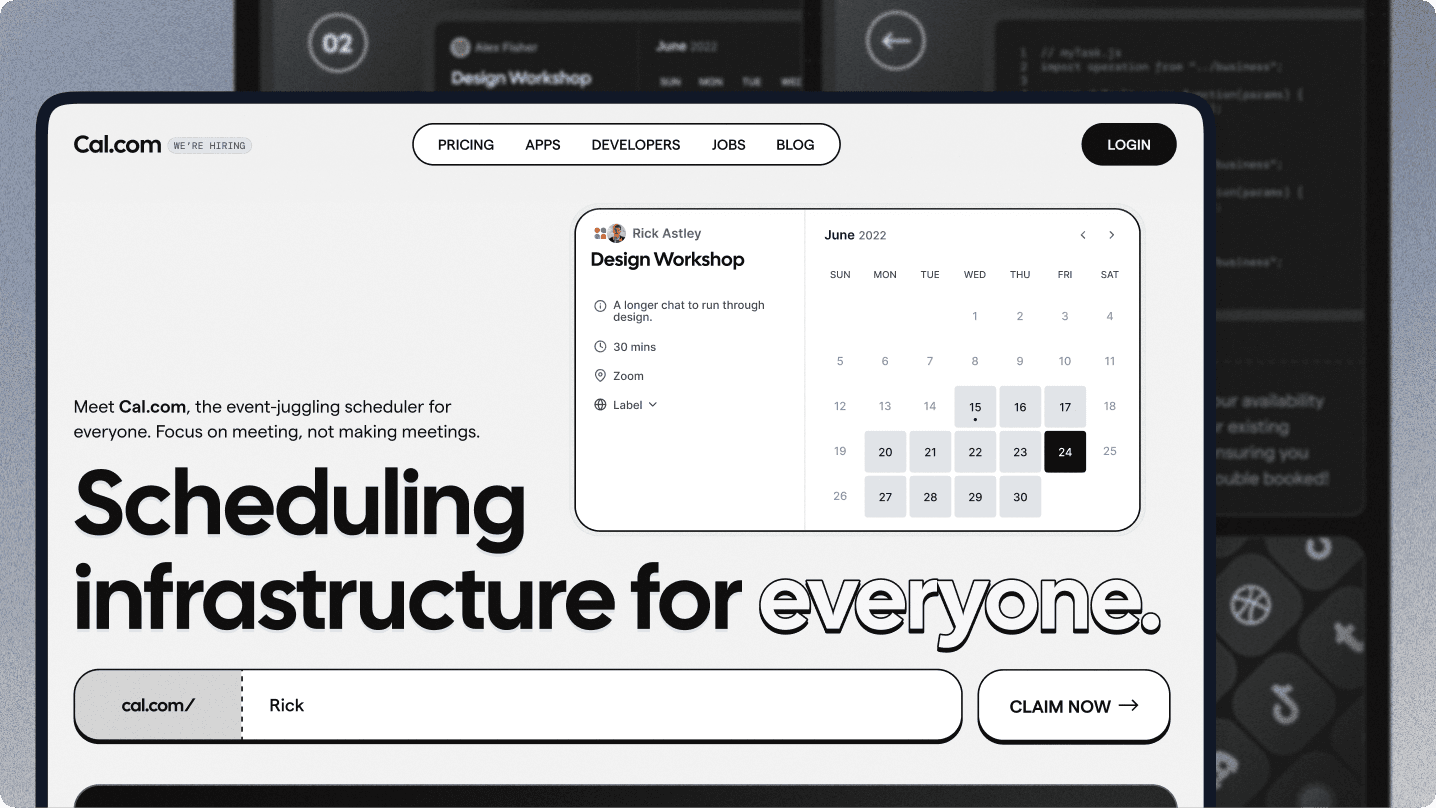 We are also thrilled to release a brand new website created in collaboration with Basement, the studio behind the Solana website and MrBeast Shop. 
The redesign gives the site a more clean look and feel but is also structured to be more information-rich than before.
Workflows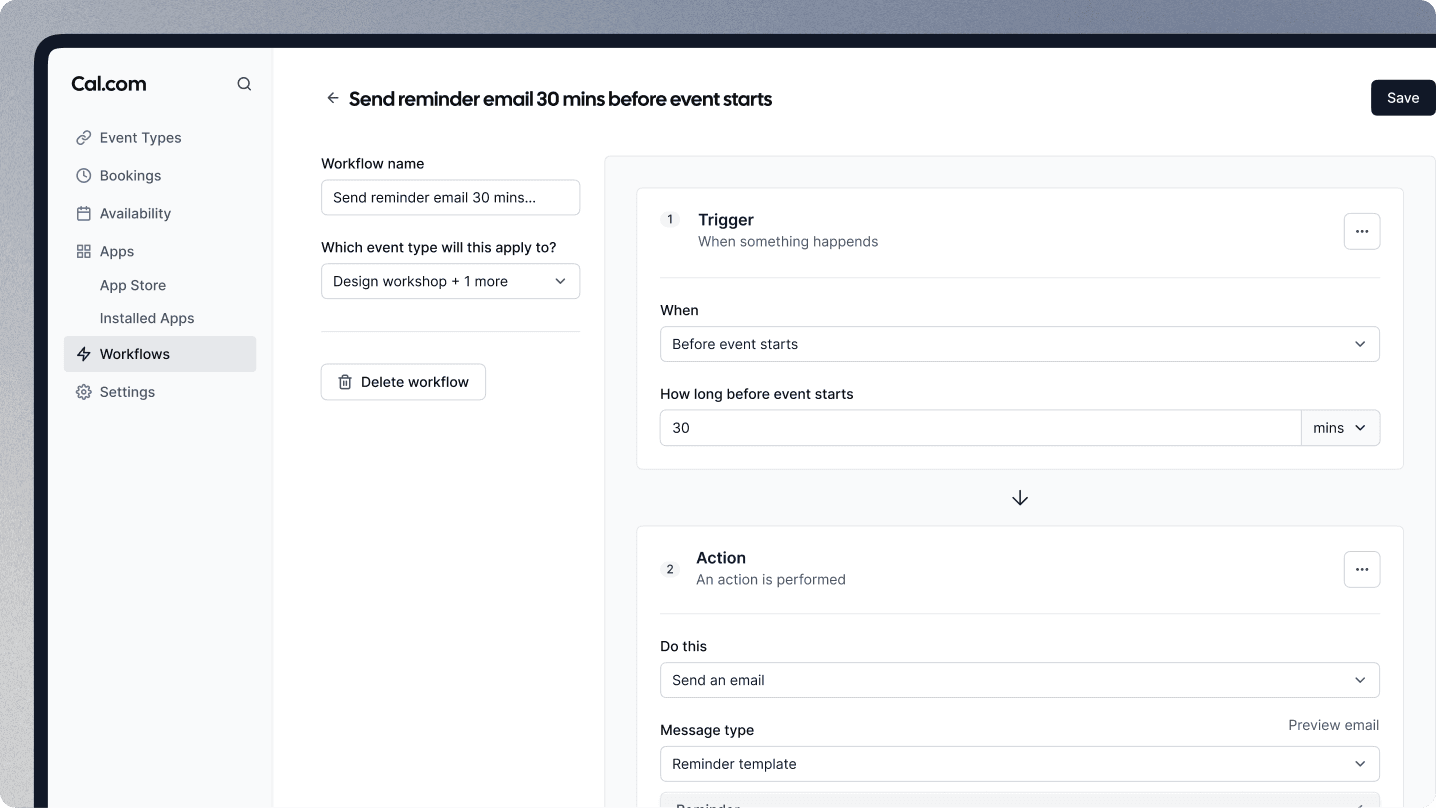 Workflows is a feature that enables automation around your scheduling right inside Cal.com. It lets you send notifications and reminders, allowing you to build processes around all your events. 
This helps guests be reminded of their upcoming bookings and deliver information to them pertaining to their booking. Some ways that users may get notified are via SMS to the attendee, SMS to the host, an email to the attendee or host or even an SMS to a specified telephone number. Having a redesigned look makes it easier to navigate and set up workflows via a click of a button.
Routing Forms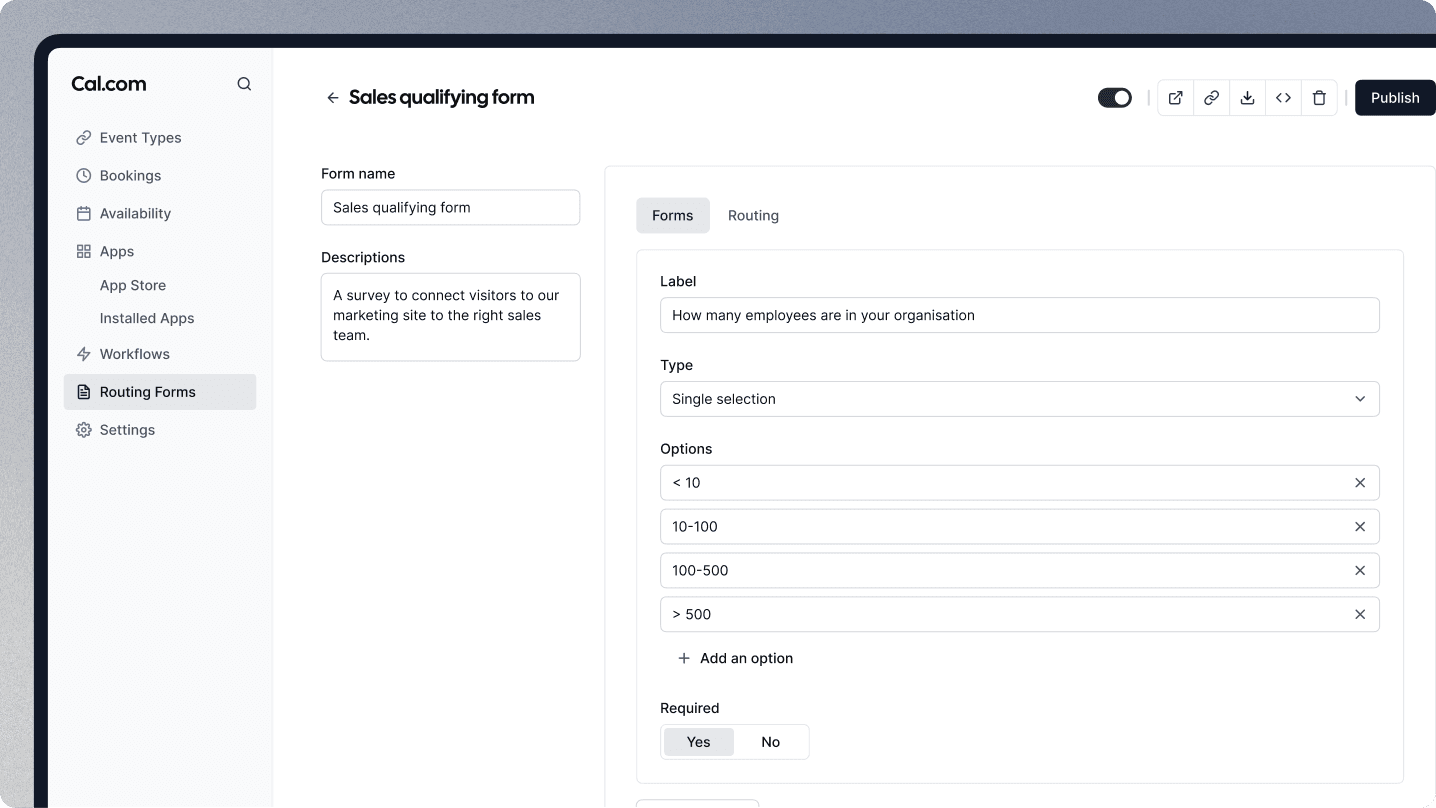 Routing forms allow you to ask screening questions of potential bookers to connect them with the right person or event automatically! You create your set of questions for the booker and the form uses those responses to direct them. You can also use this to qualify people and direct them to a link if a booking is not right for them, saving everyone time. It also works with Typeform, you can embed your form anywhere, and setup Webhooks for when responses are submitted.
App Store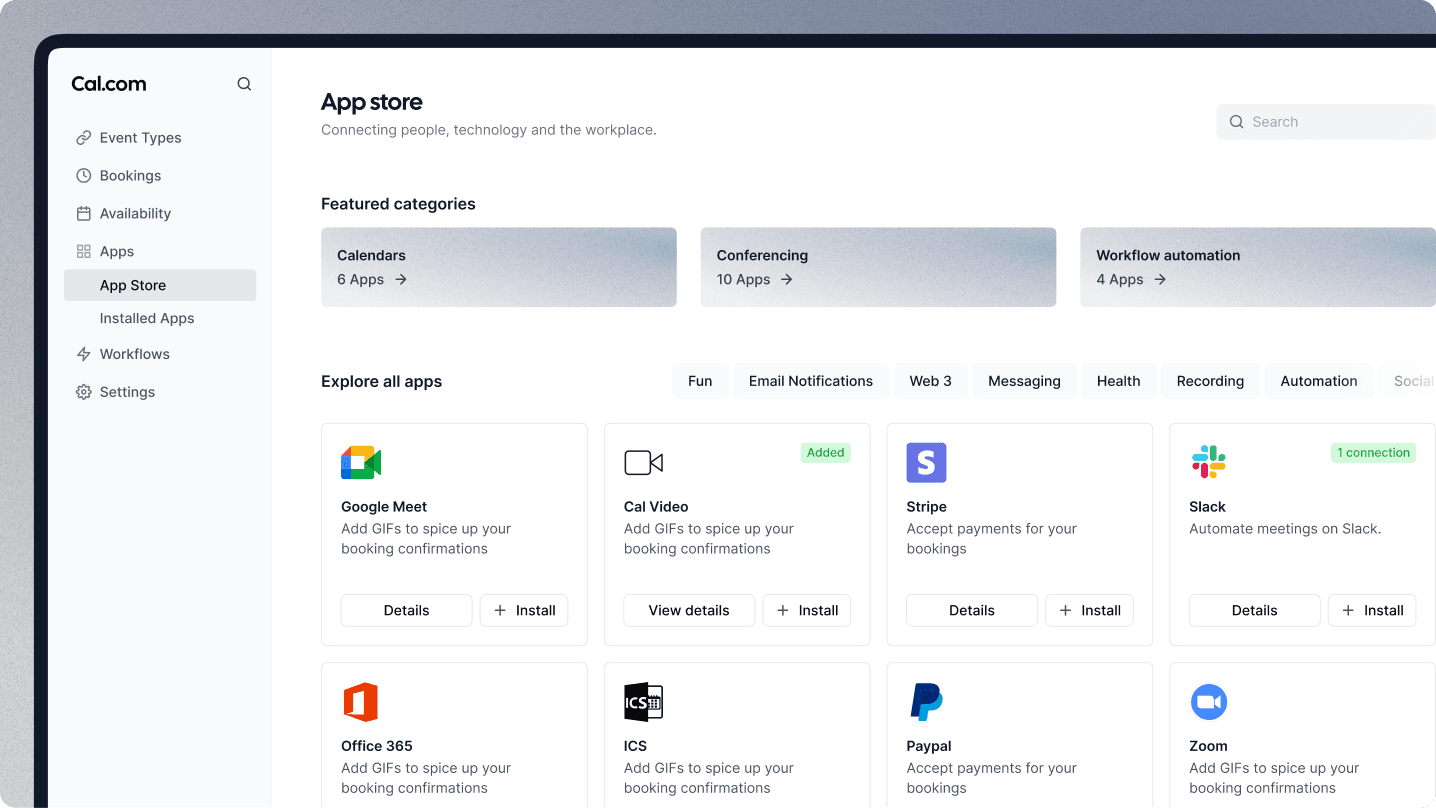 Integrations with calendars, video conferencing tools and everything else are core to the Cal.com experience. That's why we built an app store and extensible app framework to help customers find integrations with their favorite apps and services to power up their scheduling. And for developers, we've built an incredible app framework that makes it easy to build modular, easy to use apps that build on top of Cal.com's scheduling.
Embed SDK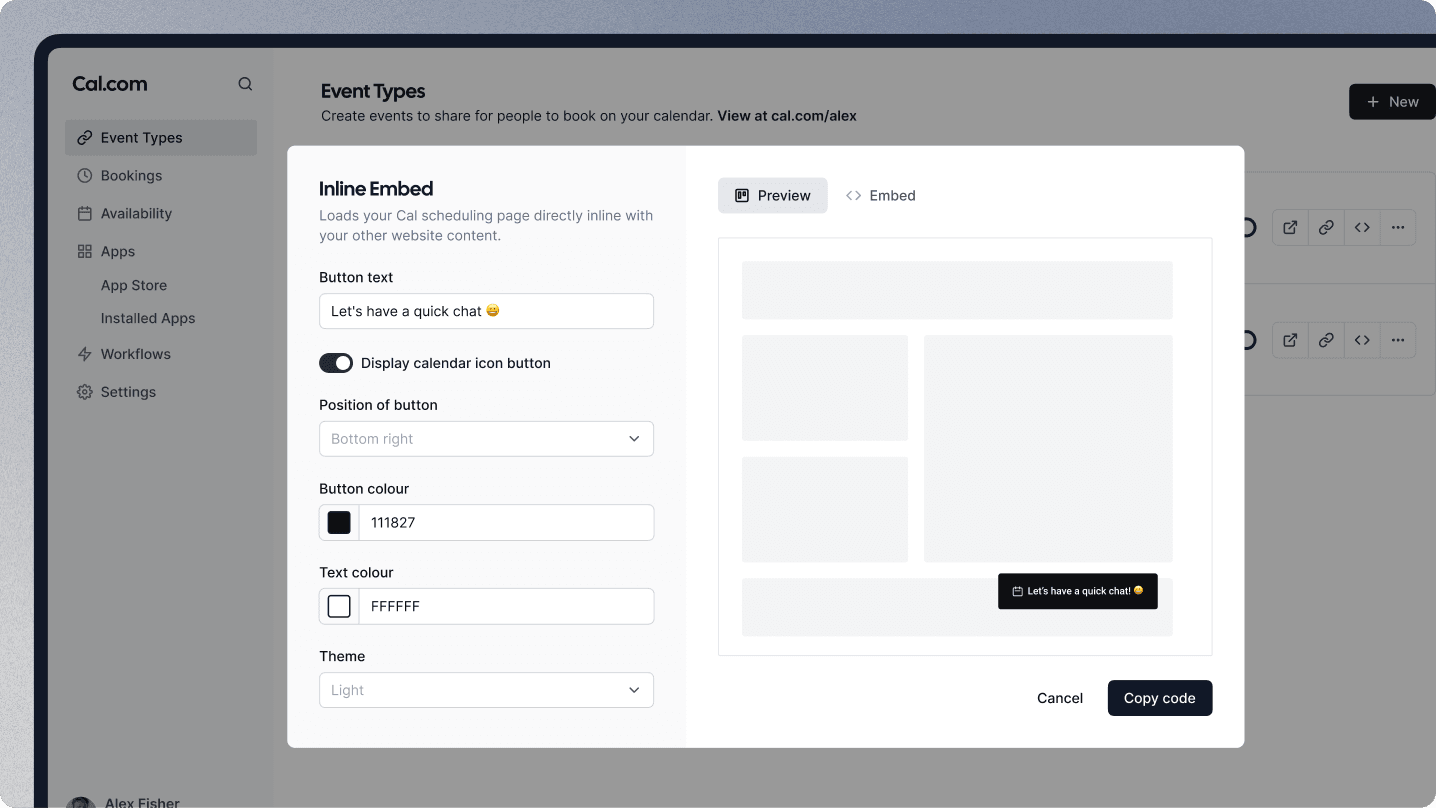 We've shipped a powerful JavaScript embed SDK, which allows you to embed Cal.com into your website in a variety of ways, including an inline calendar widget, pop up modals that are triggered from a "Book a call" button and more. These are fully customisable with your own event triggers and other customisations that enable you to embed Cal.com the way that you want.
Dynamic booking links
With Dynamic booking links you can quickly schedule meetings with multiple people in the time it takes you to type a name! You don't even need to go near the Cal app. Simply append the other person's Cal username onto your own link with a +. It's that simple. Cal.com/alex+sarah shows availability for Alex & Sarah and will allow anyone to book both of them! You can add any number of people in a dynamic link.
Seats (many to one bookings)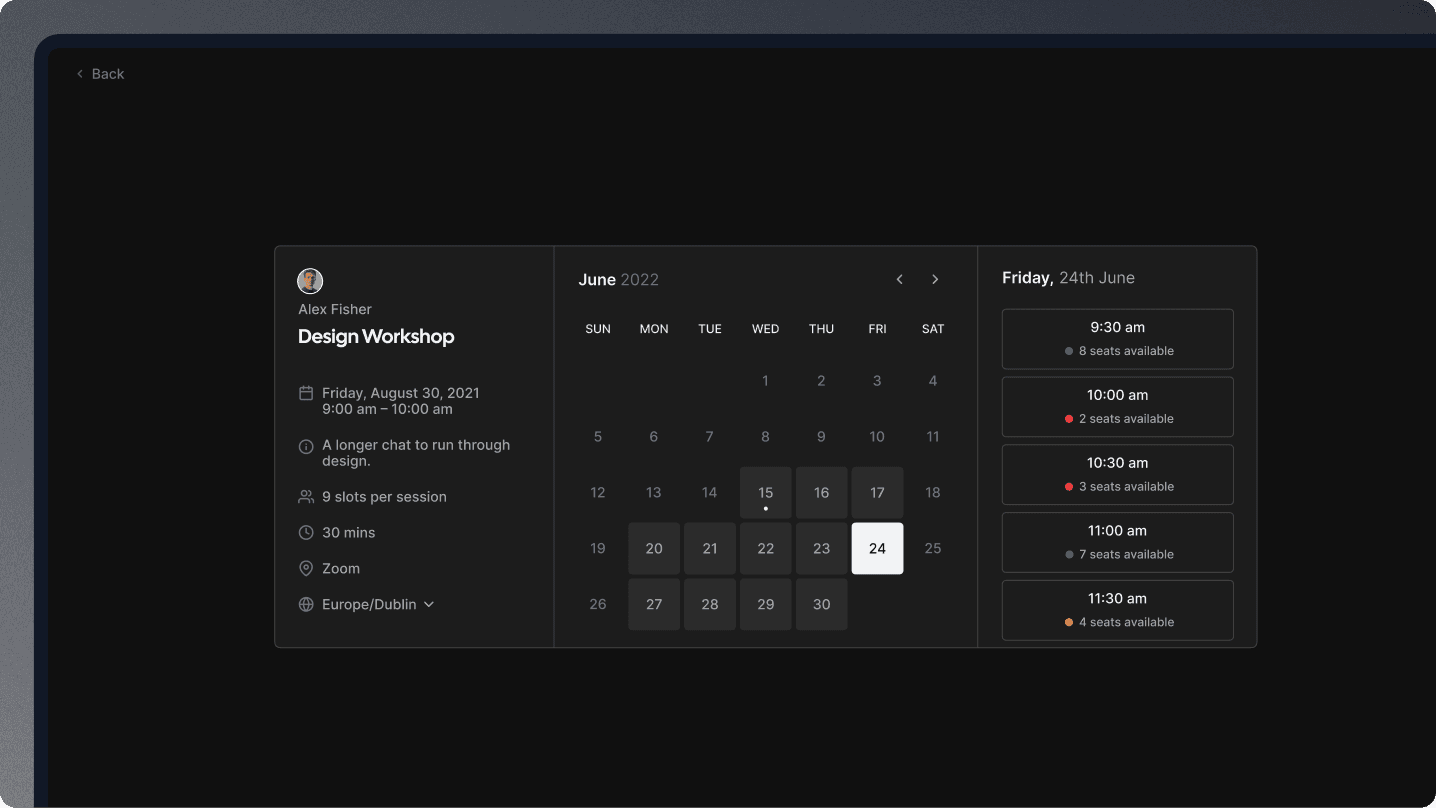 Another feature we're incredibly excited about is seats, which allow multiple people to book one time slot. A great example of this is organizing yoga classes within Cal.com. Just tell us how many people you want per time slot, and when customers go to your booking page, they'll be able to see how many seats are available for that time slot, and book sessions up to the participant limit.
And that's it!
We're incredibly excited to be releasing such exciting features, as well as a bold new pricing change that will make calendar scheduling free for consumers. Just 12 months ago, we launched our 1.0 with the mission of making scheduling accessible for everyone, and this is an absolutely huge step to doing that.
We'd really appreciate it if you could share some love across Product Hunt, Twitter, LinkedIn or in any way that you can. Our team has been working flat-out to ship these features and get the launch ready, so your support goes a long way in thanking them for their efforts.
Thanks for reading, and have a great day!
Yours faithfully,
- Bailey, Peer and the Cal.com team
Cal.com is now FREE for individuals - sign up here
Let people book when it works for both of you