Friday, December 16, 2022 · 4 min read
Cal.com v2.4 - Availability date overrides & more...
Ciarán Hanrahan
Head of Product
As we approach the end of a very eventful year, we'd like to thank you for being a valued user. This year our product has changed massively, and our team has constantly been working hard to add features, improvements, and further value to Cal.com. We wish you all a happy holiday season and look forward to reconnecting in 2023, where we're already excited to deliver even more updates and improvements.
---
Availability date overrides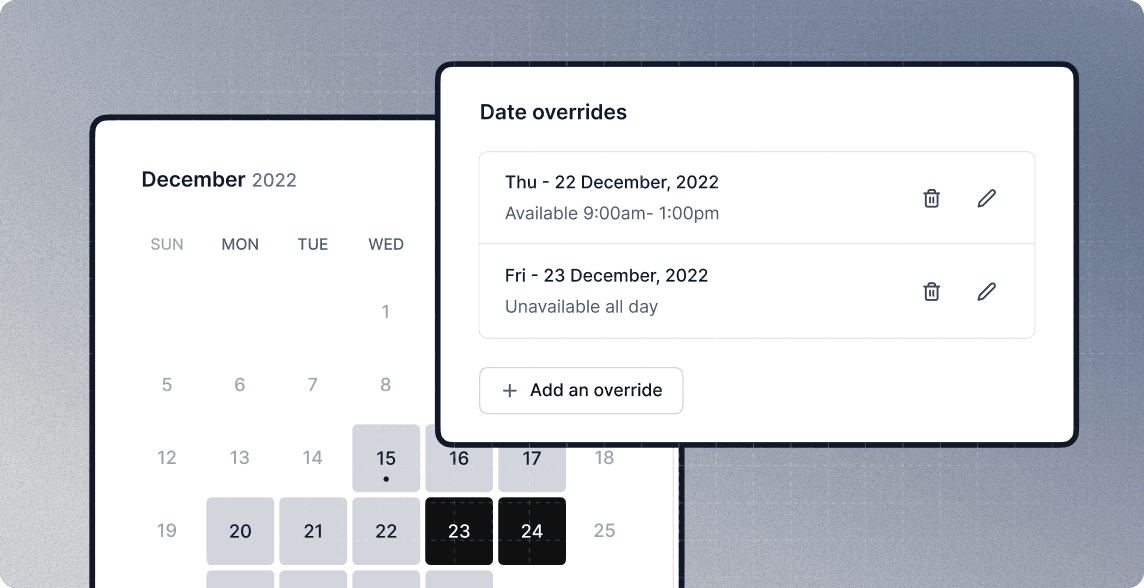 One of our most requested features - with availability date overrides, you can now pick any date that you're currently available and set specific hours for availability on that day or mark yourself entirely unavailable. Taking a half day next Thursday and Friday to do some last-minute shopping? Simply set an override on those specific days to block yourself off.
Add an override
---
Choose from multiple durations when booking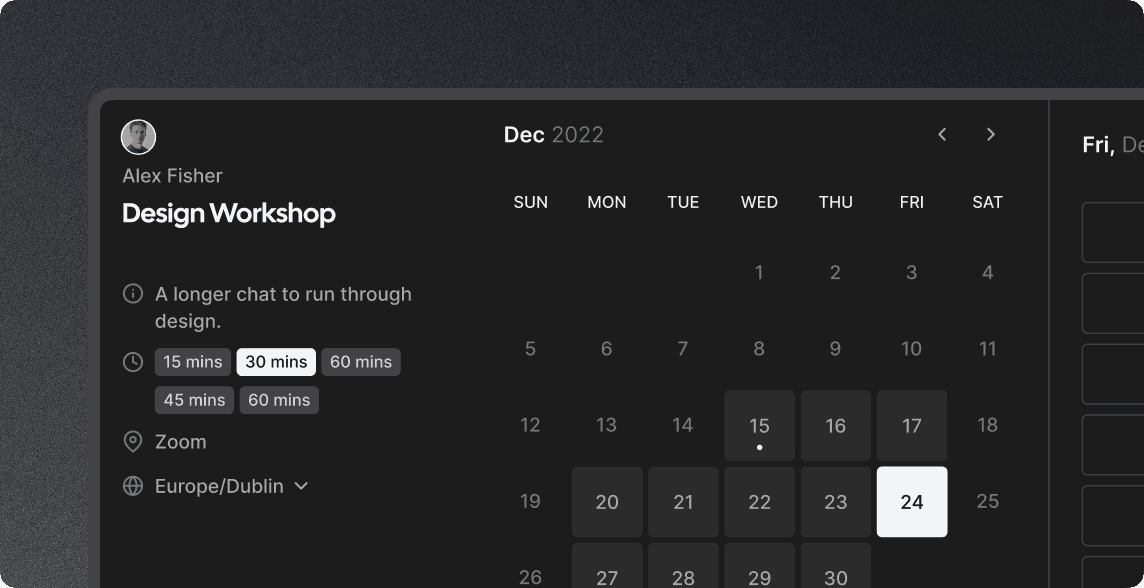 Another highly requested feature is live. You can make multiple timeslots available to your bookers from a single event link. When the booker views your event link, they can choose whether to meet with you for 15, 30, or 60 minutes, or whatever you want to make available—no more creating multiple event types just to make different times available.
Add multiple durations
---
Platform updates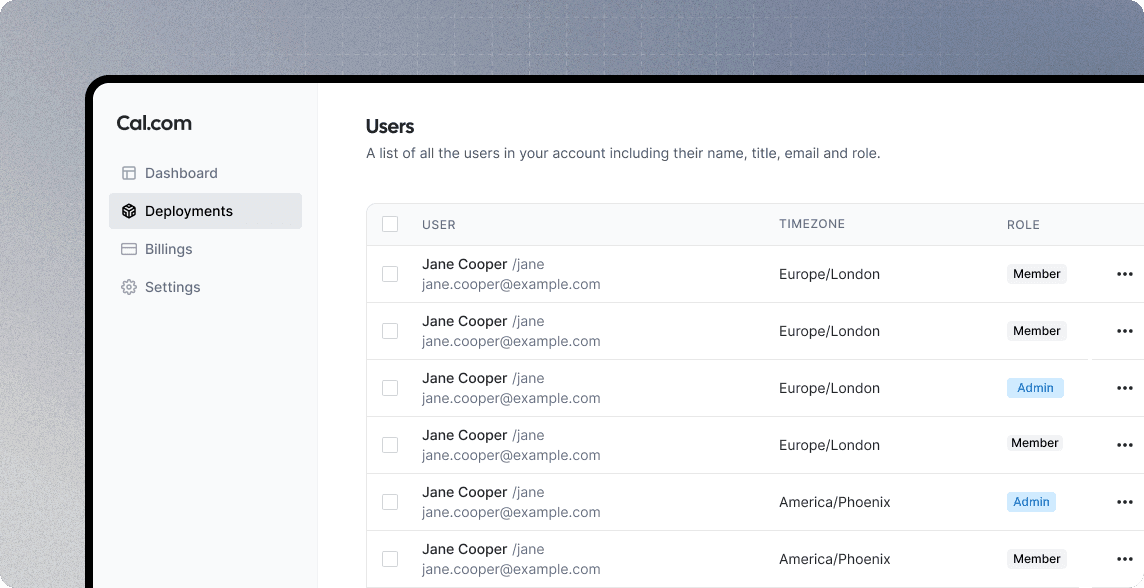 User Management within the Console Dashboard
Platform customers can now manage all their users in one place within the Console Dashboard. Before this, Platform customers could only manage users via the database they set up. This is one of many new improvements to the Console Dashboard that is on the way for Platform customers.

Admins can configure available apps
Admins can now configure what apps are available for their self-hosted instances in the setup wizard or after-in settings. For example, you can decide whether or not you want "Zoom" to be displayed in the app store for all users.
Go to my console
---
New apps
WordPress Plug-in
With our new WordPress app, you can embed Cal.com booking pages directly into your WordPress page.
Salesforce app
Our Salesforce integration will allow you to create event attendees as contacts within your Salesforce ecosystem.
WhatsApp
With our WhatsApp integration, you can schedule a chat or set a WhatsApp link for a video call in your event type's location settings.
Signal App
One more instant messaging service integration! Schedule a chat or set a Signal link to a video call in the location of the Event Type.
Telegram App
You guessed it — another instant messaging app! Schedule a chat or generate a Telegram link for a video call.
Other new features & improvements
Requires confirmation threshold
Now you can add a conditional threshold to your event types that require confirmation. For example, only require confirmation for bookings with less than a 2 hours notice.

Additional questions: Multiple choice single selection
We added a radio button option to additional questions on your public booking page to allow multiple choice questions with the booker only able to choose one option.

Text editor for custom workflow templates
We added a text editor to allow users to create better custom email bodies for their workflows.

Hide EventType Details in Embed
You can now choose to hide EventType details inside embed. The setting is directly available in Embed Code Generator inside the app.

Direct links to accept/reject a booking
We implemented direct links in the email for booking that requires confirmation. With these direct links, you can accept or reject the booking without the need to log in.

Improved cancellation flow
We tweaked the cancellation flow of recurring events. Also, the cancel link from the confirmation email no longer redirects to the success page to cancel all remaining events.

User Avatar is now clickable
Once the avatar is clicked from within the booking page, it will redirect to cal.com/<username> of the same user.

Webhook triggered when booking is confirmed - not submitted
We fixed the bug that triggered a webhook when the event type which requires confirmation is booked instead of when the same booking is confirmed.

Edit location dialog new select component
We launched some improvements and fixes for our event-type location dropdown.

We added search in the App Store

We now show cancel and reschedule options for bookings that are still waiting for confirmation
Fixes
Fix: Location missing when duplicating an event is now fixed

Fix: We added a conditional banner to ask people to upgrade their teams. Teams can still be viewed, but the public booking link will only be available once they have upgraded to Teams.

Fix: The image in /getting-started/user-profile was not updating after uploading the new image. This has been fixed. 

Fix: The event type duration calculation needed to be corrected; e.g., 90 mins was converted into several hours. This has been addressed. 

Fix: MS Teams

Fix: Added proper dark mode support for buttons 

Fix: correct month after changing the time zone

Fix: Rescheduling error with attendee phone number as location

Fix: Customers reported that the Zoom app created Cal.com meetings in Zoom with the incorrect time zone. Our engineers were able to identify the issue, and it has been sorted.
Our next milestone is going to be heavily based around making improvements to the Teams user experience.
Let people book when it works for both of you