Tuesday, August 15, 2023 · 4 min read
Cal.com v3.2 - Performance, email embeds & more….
Ciarán Hanrahan
Head of Product
Welcome to the 3.2 changelog. The main focus for the past month for us has been working on the performance of our app as we work towards making it lightning-fast, but we've also shipped a ton of really valuable smaller features, particularly around the booking experience!
Significant performance improvements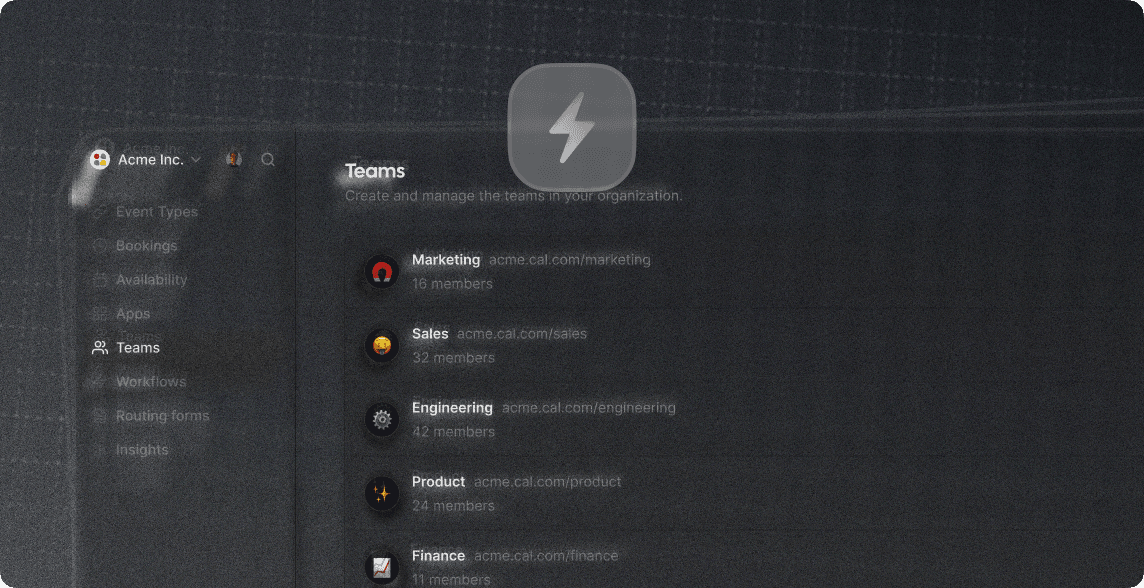 An app can never be too fast, right? Well, we know our app certainly should be faster and that's why we've been focusing a lot on performance. With recent changes to how we load user sessions, the order in which we get users' schedules on the booking page and how we cache resources that don't need to be constantly reloaded, we've seen the speed of the app improve by almost 40% in some areas. We're extremely excited about these changes and will continue focusing on performance in v3.3 so that the app is snappier than ever.
Check it out
Bulk user management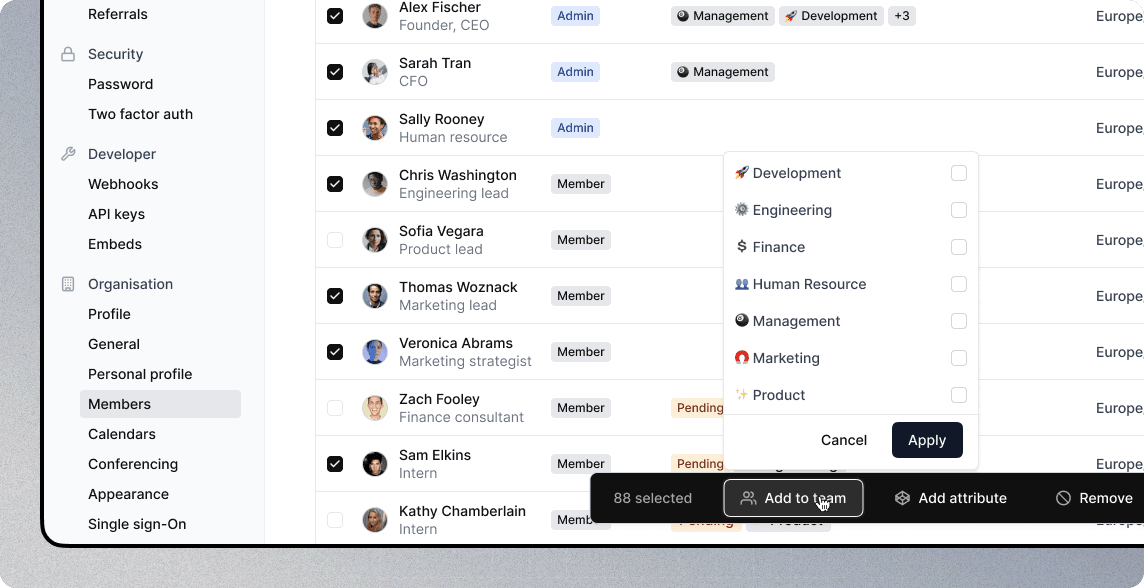 We're rolling out a much-improved experience for bulk user management. We're starting by rolling this out for organizations as the benefits are really felt for those with larger teams. With bulk user management, you'll be able to bulk add/remove people from teams, bulk delete and more coming soon. We've plenty more features planned and in the works for managing people in teams and organizations including easily viewing availability across all of your team members.
Email embed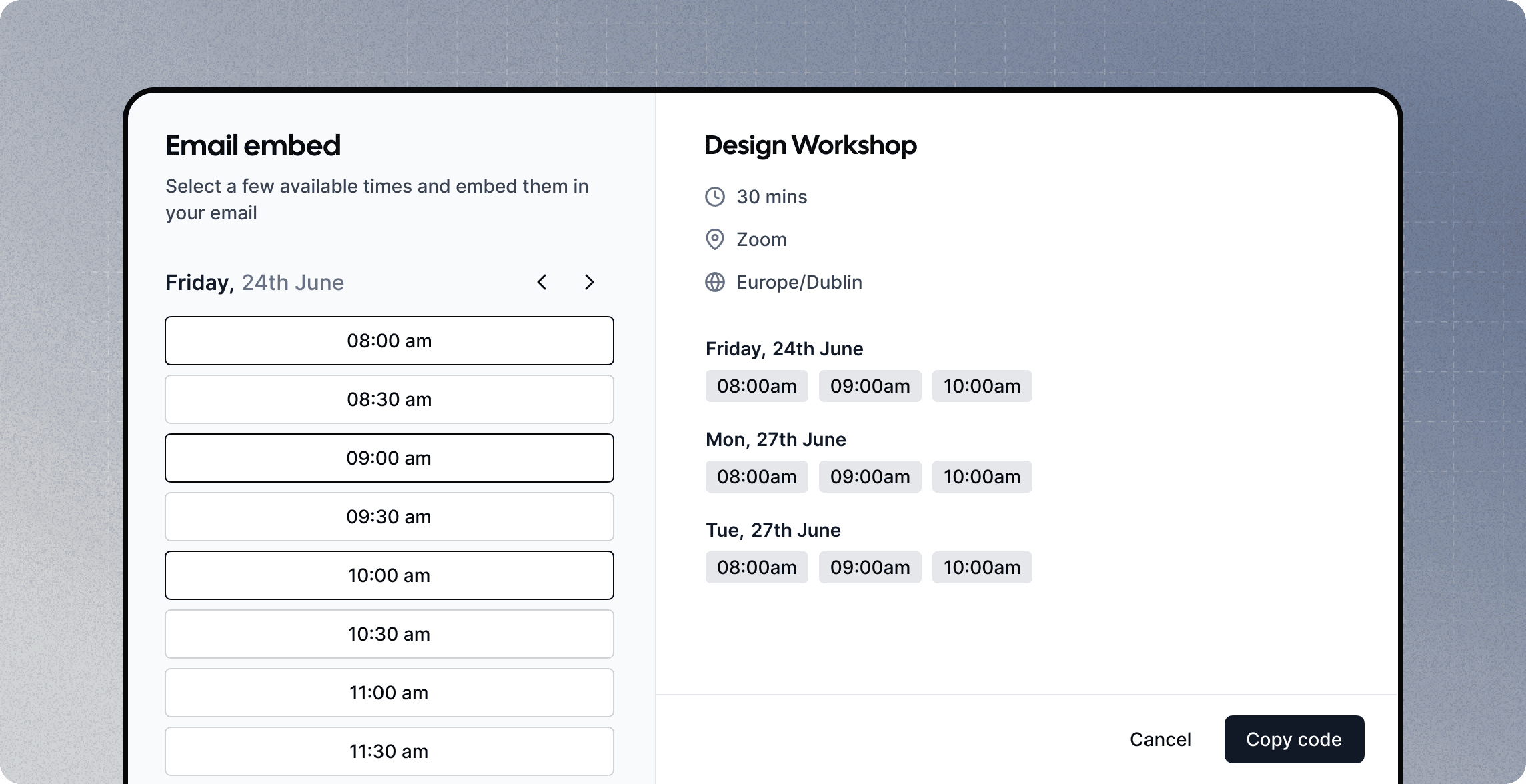 You can now embed times from your event type in your emails. Go to your event type, click embed and select 'Email embed' and choose some days and times. You can then copy and paste it into your email and it will make selectable times that your recipient can use to book you with all your event-type settings in one simple click. This really is the end of scheduling meetings with email tennis.
Try it
Security changes to Workflow SMS
We've noticed a recent increase in spam from our "Send an SMS to an attendee" feature. It appears spammers have been buying team accounts solely to send unsolicited messages. To address this:
We now require that the event type is set to "Requires Confirmation" before any SMS can be sent to attendees.

We've introduced a Know Your Customer (KYC) verification to ensure accounts aren't set up for malicious purposes.
Thank you for your understanding as we work to enhance the security and quality of our service. In order to continue using this feature, you must get verified.
Get KYC verified
New features
Separate first & last name
We've added the ability for you to collect First Name and Last Name inputs separately on your public booking pages.
Full date overrides
Where previously you could only add date overrides to mark yourself as unavailable during your set hours of availability, you can now add overrides to any day, even outside of your working hours.
No more spam bookings
You can now make bookers verify their email before their booking is confirmed. They will be emailed a code to enter to confirm it. You can activate this from advanced settings in event types.
Apps for teams: Conferencing apps can now be installed for a team/org and used for team event types.
Zapier for teams: Team owners/admins can now create Zapier API keys which trigger for all team event types.
New apps: Skiff calendar and Element call app
Improvements & fixes
Booking form: We added support for adding links to the Checkbox type question using markdown with [text](link).

Dynamic links (cal.com/username+username2) now go straight to the booking screen with multiple durations selectable on the left instead of showing 3 different event types with different durations. One less step for bookers.

We also added full names in the description of dynamic events.

We added attendee first name and last name as tokens to workflows.

We added extra security layers for sending messages to attendees via Workflows.

We now allow new bookings to overlap old ones when rescheduling in case someone wants to move an hour-long booking by 15mins for example.

We fixed an issue where if the input type "Name" was selected, the label couldn't be changed from the default label "Your Name".

We added helper text in round-robin event types to clarify the role of the optional Fixed Hosts.

We fixed an issue where the 'Team' filter in event types was causing endless loading and removing the 'Add' button.

We made some performance improvements to reduce the Outlook Calendar and availability response size

We fixed an issue causing people to be unable to reschedule dynamic bookings caused by mandatory fields being empty but disabled.

We've now made Routing Form a preinstalled app and now part of the main sidebar for teams given how important it is to the team's experience.

We fixed some issues causing weekly limits not to be respected when they ran over 2 months.

We've added a fix to prevent people from deleting their last availability schedule.

We fixed a UI issue with embeds that now hides the floating button when the calendar is open so it doesn't interfere with it, particularly on mobile.

We've added more Brand colors to the calendar view for that little bit more ownership.

As usual, this is only a small portion of the work we shipped over the last month so if you want to see them all you can view them here.
That's it for this month, thanks for reading. If you'd like to give us feedback on anything we've shipped this month - we'd love to hear from you! Email us at [email protected]
Let people book when it works for both of you