Sunday, October 15, 2023 · 4 min read
Cal.com v3.4: Cal.ai - Meet the future
Ciarán Hanrahan
Head of Product
Welcome to the 3.4 changelog. We have several significant new features this month, as well as a huge and game-changing announcement for scheduling.
Meet Cal.ai, your new virtual assistant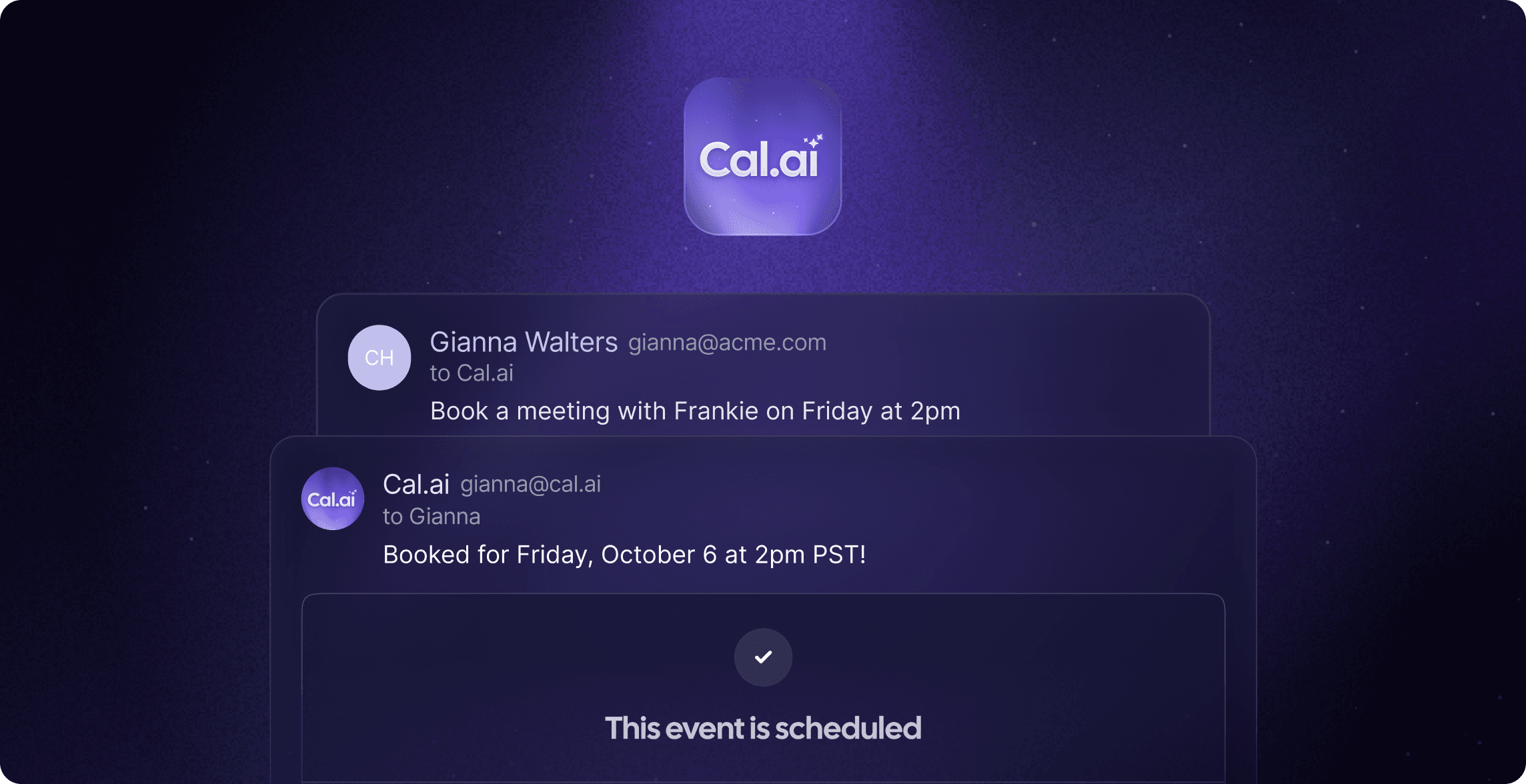 Introducing Cal.ai, a new product that supercharges your appointment management and scheduling workflow.
Cal.com was conceptualized around the idea of making scheduling easy for everyone. We wanted to design not just a product, but scheduling infrastructure that could grow and change to meet your scheduling needs. We didn't design the platform with just a single market, individual, or scenario in mind. Instead, we focused on designing a system that could be upgraded and customized as our users identify new goals and accomplish their dreams.
We believe that the best technology works with you, symbiotically enhancing your workflows and supporting you as you build, create, and innovate. This is why we're excited to announce Cal.ai, a new tool that will help you schedule and manage meetings with even less friction than before.
Your personal assistant will be based on your username: cal.com/peer will be [email protected]
Check it out
Overlay your calendar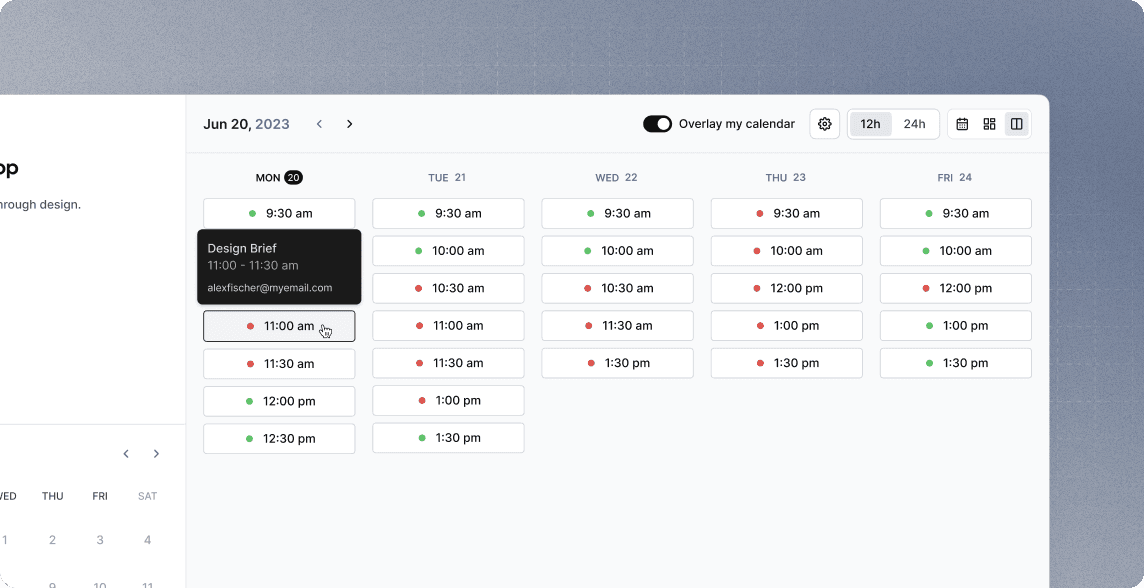 We all know Cal.com is the best way to make sure nobody else double-books you, but there was still always the risk that you went to someone else's link and double-booked yourself. To avoid this you would have to open your calendar, check your meetings and then go back to Cal.com to book the person. Well, not any more! Simply hit the "Overlay my Calendar" toggle on the top right of any booking page and your availability will be overlaid over theirs showing you when you're available, and most importantly, when you're not. Never double-book yourself again.

Check it out
Monthly digest emails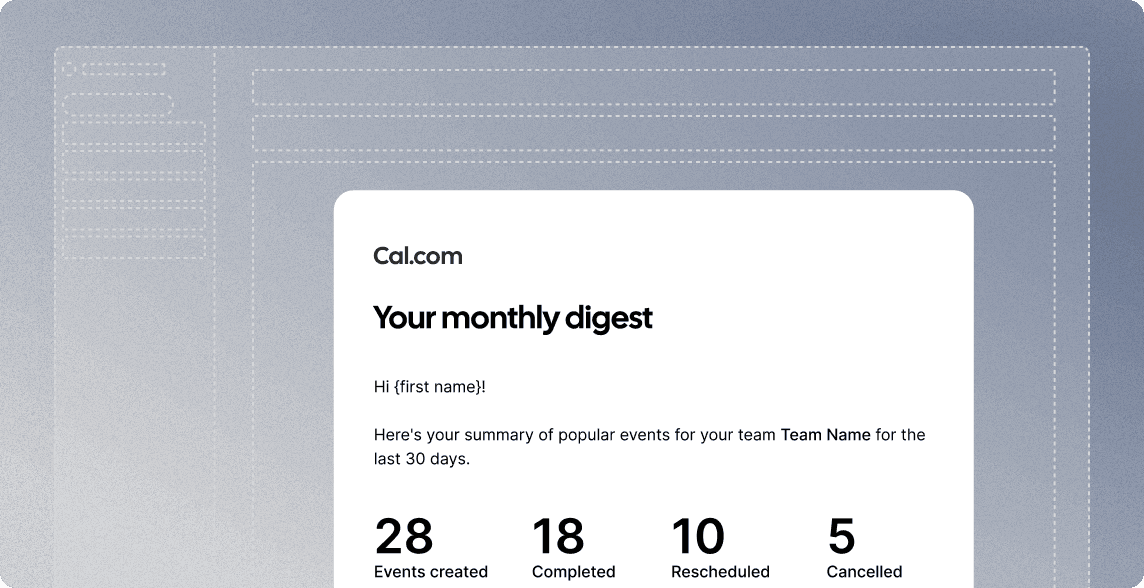 Team owners will now receive monthly digest emails showing a summary of their team's activities for the previous month. You can turn this off in your general settings if you don't want to receive this email.
New features, apps, improvements & fixes
New app: You can now use our Alby app to charge Satoshi for your Cal.com meetings. getalby.com app.

New app: We added Zoho Calendar to our app store

New app: We added Intercom to our app store. You can now put your cal.com link directly inside your Intercom messenger and respond directly to messages with an invitation to schedule.

We added dark mode to our login, logout and password reset screens.

We fixed an issue where the timezone of the default availability schedule was not updating when you updated your profile timezone.

We fixed some API cold boot issues.

We fixed an issue where the organization table UI flickered and we added a sticky search & filter table header.

We fixed an issue where a seated event type public ID cancels/reschedules the entire booking without auth.

We fixed a bug that sometimes caused an org team event to not use the correct availability.

We added more contrast for Cal video.

We refactored and improved the Paypal App UI & UX.

We fixed an issue with Google Calendar not correctly blocking out busy times.

We changed some Japanese translations on the booking page to better match the scenario.

Remove "cal.com" from appearing before team names on our 404 page.

Self-hosters that have their own app store can now sync their user's 3rd party credentials with their instance of Cal.com.

We now use new org member's email handles as their usernames as their email handles.

When adding date overrides, we now keep the dialog open so it's easier to add them in bulk.

We fixed an issue causing duplicate calendar events being created for team members and dynamic event participants.

We fixed an issue where the re-order buttons on event types were out-of-place arrow button and added animation.

We fixed an issue fetching bookings and getting null responses via API.

We redesigned the settings area in the app and grouped settings more clearly so it's easier to navigate pages with a lot of different settings.

We fixed an issue where single sse private links were not regenerating after use.

We fixed backwards compatibility on Google reschedule/cancel events.

Fixed a scenario where duplicate calendar events are created across calendars. Actual steps to replicate the scenario aren't clear but it should be fixed.

Fixed an issue where team members were not showing up in org members list.

We've made SMS/Whatsapp to attendees action an org-only feature. Now KYC is not needed anymore and is removed. We disabled the create team button for non-admins.

Fixed an issue where the request for rescheduling did not cancel the initial meeting.

Small UI fix where the clickable area of the 'x' in add guests on the public booking page was too small.

Fixed an issue where workflow that is active on managed event type could not be edited.

As usual, there were many many more fixes and you can view them all here.
That's it for this month, thanks for reading. If you'd like to give us feedback on anything we've shipped this month - we'd love to hear from you! Email us at [email protected]
Let people book when it works for both of you