Monday, May 15, 2023 · 5 min read
Cal.com v2.9
Ciarán Hanrahan
Head of Product
Welcome to the 2.9 product newsletter. This was a quiet month for us in terms of shipping major new features, but our biggest release in terms of performance improvements for you and your bookers.
The majority of the team also met up at an offsite in the Canary Islands. It was a much-needed retreat to spend some time together, and to sync up on some big product plans ahead of the big 3.0 release next month! More on that below…
Significant performance improvements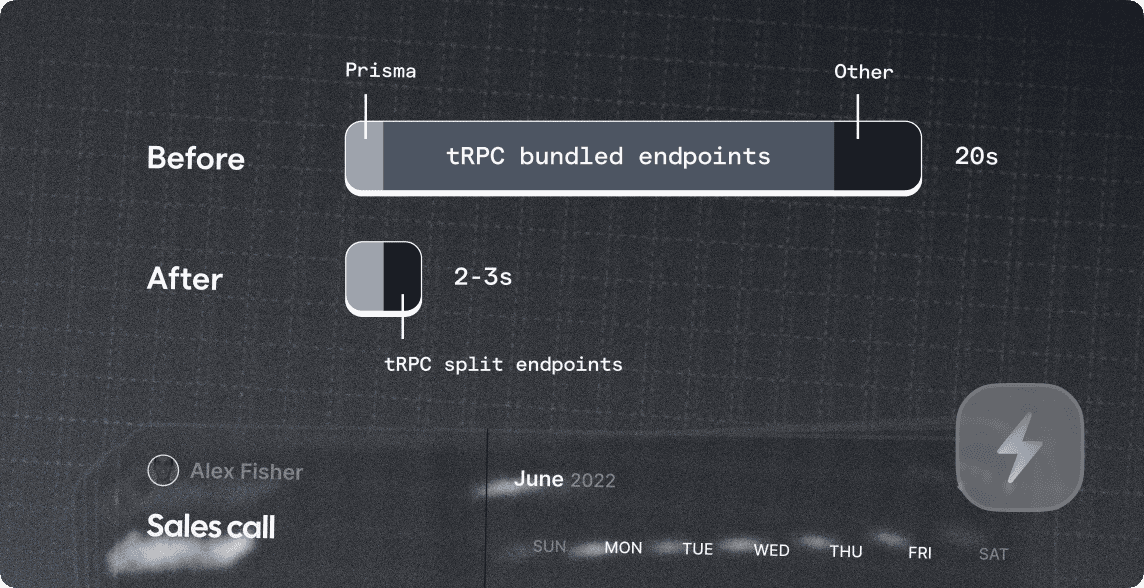 For some time, the Cal.com app could suffer from cold start load times ranging from 7 seconds to 30 seconds, in extreme cases. This behaviour did not always happen, due to the nature of cold starts, but it was happening frequently enough that it became an issue we needed to address as soon as possible.
To overcome this, we have implemented various optimizations including pre-fetching and caching data, streamlining API requests, and leveraging serverless functions, but most importantly unbundling our tRPC endpoints. These enhancements have significantly reduced load times, greatly improving the experience for your bookers. While there is still more work to be done to reduce these speeds even further, the reductions thus far have been significant! Our head of engineering, Keith delves into this further on our blog.
Read the post
Teaser: Booking page improvements and new layouts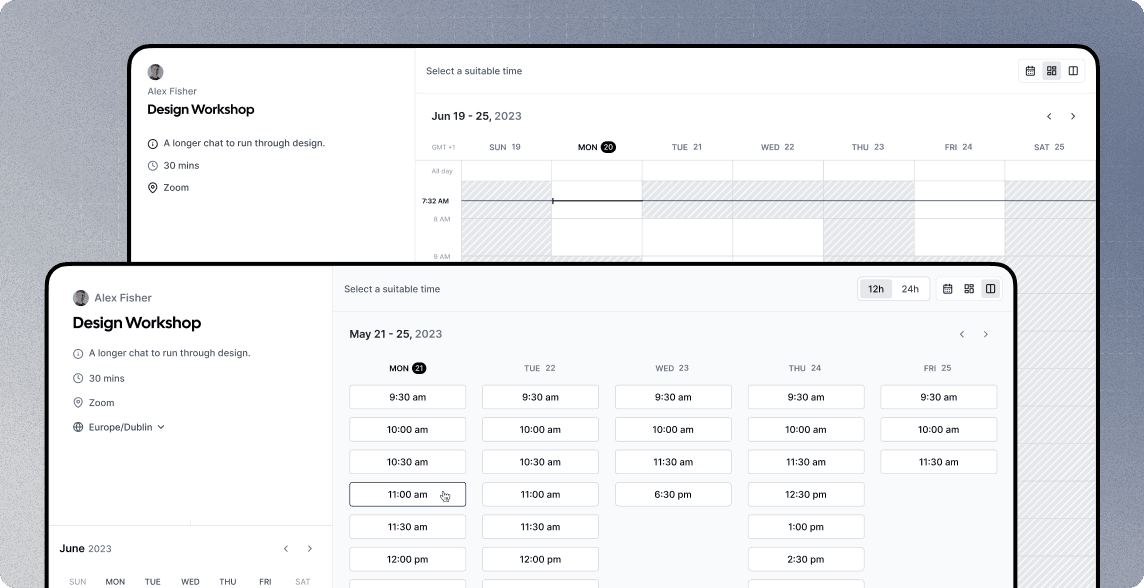 This is, without doubt, one of our most eagerly awaited features since launching Cal.com. Next month, we will be shipping two new layouts for your booking pages: Column view and Weekly view. We're also making significant improvements to the existing monthly view tightening up all of the UI, adding subtle animation to improve the experience and it will be up to 5 times faster. If you can't wait until next month, drop us an email and we might be able to provide early access. All we ask in return is that you share any and all feedback with us!
Share on Twitter
New apps & features
New App: Meta Pixel
This records a page view event under the custom event 'CalcomView', corresponding to the organizer's Pixel ID.
New App: Zoho Bigin
New bookings automatically create corresponding "Contact" and "Event" records on the Zoho Bigin platform.
Workflows: Disable standard email confirmations
You can now disable our standard confirmation emails for hosts and attendees if you have a workflow active on your event type that is configured to send an email.
Editing workflow templates
Workflow templates are now much more flexible. Predefined templates can be edited and dates can be formatted. It also introduces new dynamic text variables for cancel url, rescheduling url, event end time and timezone.
Workflows for managed event types
You can now utilise your workflows on your managed event types. Next up for managed event types is to enable apps.
Improved flow for people invited to teams
We fixed some major issues experienced by people who were invited to teams. They are now redirected to the correct page from the email, added to the team and brought through the onboarding flow.
Fixes & small wins
We added video conferencing to the onboarding flow so no users don't miss connecting their preferred app for meetings.

We've added a search for members on the team members page.

Now only team users can record daily meetings and the record button is hidden for users not on a team plan.

We've pushed a lot of UI/layout/spacing improvements to our event-type embed modal.

Date overrides outside of working hours was correctly shown as available in the app, but when submitting the booking it was throwing an error "No available users found". This is now fixed.

We turned the "Assign to" input in team event types into a typeable input so you can now search people.

We improved our input add-on styles.

We added gradients to the dark mode of our app and the booking page.

We fixed a bug where locations were not respected when bookings enabled no-show fees. Also if a payment record was malformed, it would block the bookings page from loading.

We fixed the toggle/switch label hover state.

Fixed an issue where passwords were not updatable after an API error.

Fixed a small issue where assigned members to managed event types were missing the preview URL.

Fixed an issue to ensure we show the "smsReminderNumber" on the booking success page.

Fixed a style issue with the timezone dropdown on the booking page where it was missing a shadow.

Fixed an issue where workflows were not firing for event types that didn't have a video app set as the location.

Fixed an issue for dynamic events that was not properly using the user's default event location URL.

Fixed some UI and layout issues in the event type embed modal.

Fixed an issue where the Routing Form toggle wasn't working.

Fixed an issue where we weren't using the correct timezone on the booking detail page.

Fixed an issue where Google Cal/Outlook wasn't actively syncing for self-hosted users.

Improve the bookings page performance by avoiding calling and creating unnecessary async contexts.

Fixed an issue where the event type title wasn't displayed on mobile view.

Improved the Insights page load speed.

We added brand colors to switches/toggles so if you have added a brand color in settings all switches will be branded.

Set a limit on avatar upload size.

Fixed an issue where the editor wasn't saving new values.

Fixed an issue where Event Type Description Save wasn't working.

We now show team members regardless of whether the invite has been accepted so you can add them to events.

Improved the display of bookings with payments.

Prevented alphanumeric sender id for sending sms to Australian numbers.

Fixed a redirection issue after app uninstallation.

When a workflow is activated/deactivated in the event type settings it now cancels and schedules reminders.
We pushed so many fixes this month that we can't list them all here, but you can view all here.
Tip of the month: Manually confirm bookings before adding them to your calendar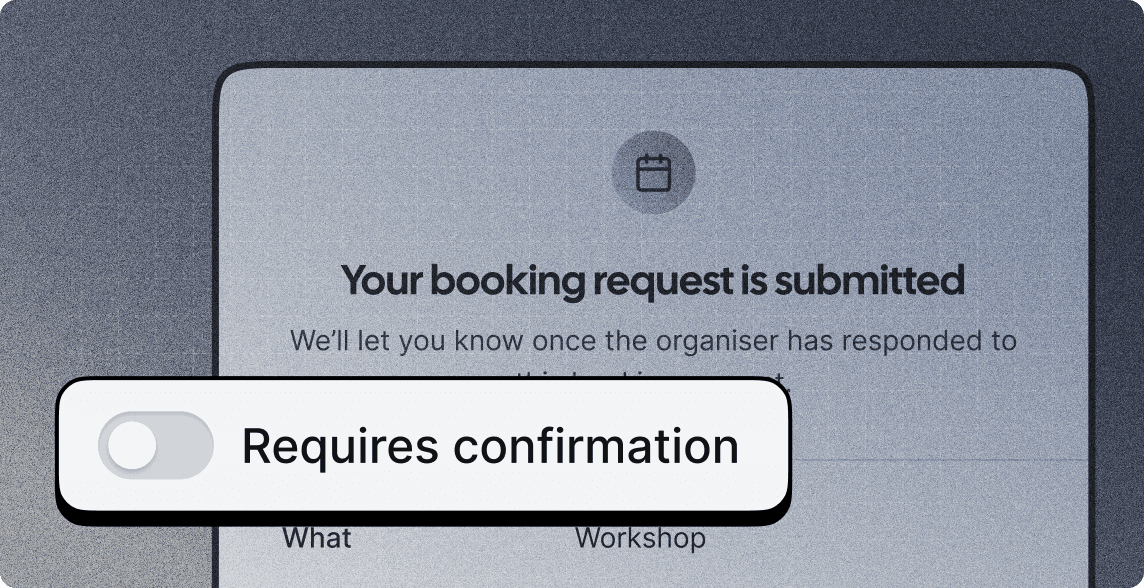 If you're concerned about sharing your Cal.com link publicly and receiving a heavy influx of bookings taking over your calendar, event types that "Require confirmation" are for you. When you toggle on "Requires confirmation", you will get to review all booking requests and accept or reject them before they fill up your calendar. Your bookers will be informed that you still need to confirm or reject their booking request.
Add an opt-in event type
That's it for this month. Thanks for reading and we'll be back with our biggest release of the year next month! If you'd like to give us feedback on anything we've shipped this month, email [email protected] we'd love to hear from you!
Let people book when it works for both of you