Monday, May 8, 2023 · 2 min read
You can now create Facetime compatible Cal.com events.
Assantewa Heubi
Content Creator
Everyone has their way of being and working. We all walk through life with slightly different frames of reference and points of view. What works for one person may work differently for another. That's okay! The only time being a unique individual is challenging is when working within a system that doesn't understand or appreciate the diverse human experience. Cal.com believes that calendar scheduling infrastructure should work with individuals and organizations as they are rather than making large-scale assumptions. This is one reason why our product offers open-source and no-code customization options. We know that everyone's different, and we want to empower people to customize their scheduling environment as needed. Our app store is a crucial way we facilitate no-code customizations and acts as a repository for over 100 modular enhancements. The app store makes it easy to add a host of integrations ranging from video conferencing platforms to analytics and CRM solutions.
All about FaceTime:
At Cal.com, we know a tool is more likely to be used if it's easy to reach. That's why we all grab our phones when we want to take pictures. With this in mind, Cal.com is happy to announce that we now have an app for FaceTime. Enabling this app means that you can now set FaceTime as the meeting location for your bookable events. This is great for creating hidden events to stay in touch with friends and family. It's also an invaluable feature if you're traveling and must schedule a last-minute meeting. Switching between using a computer, iPad, or iPhone when video conferencing gives you more options. It can be a lifesaver if the wifi suddenly goes out or your laptop battery dies. Using the FaceTime app also means that Apple users don't have to choose between using Cal.com and staying within their video conferencing platform of choice - they can do both!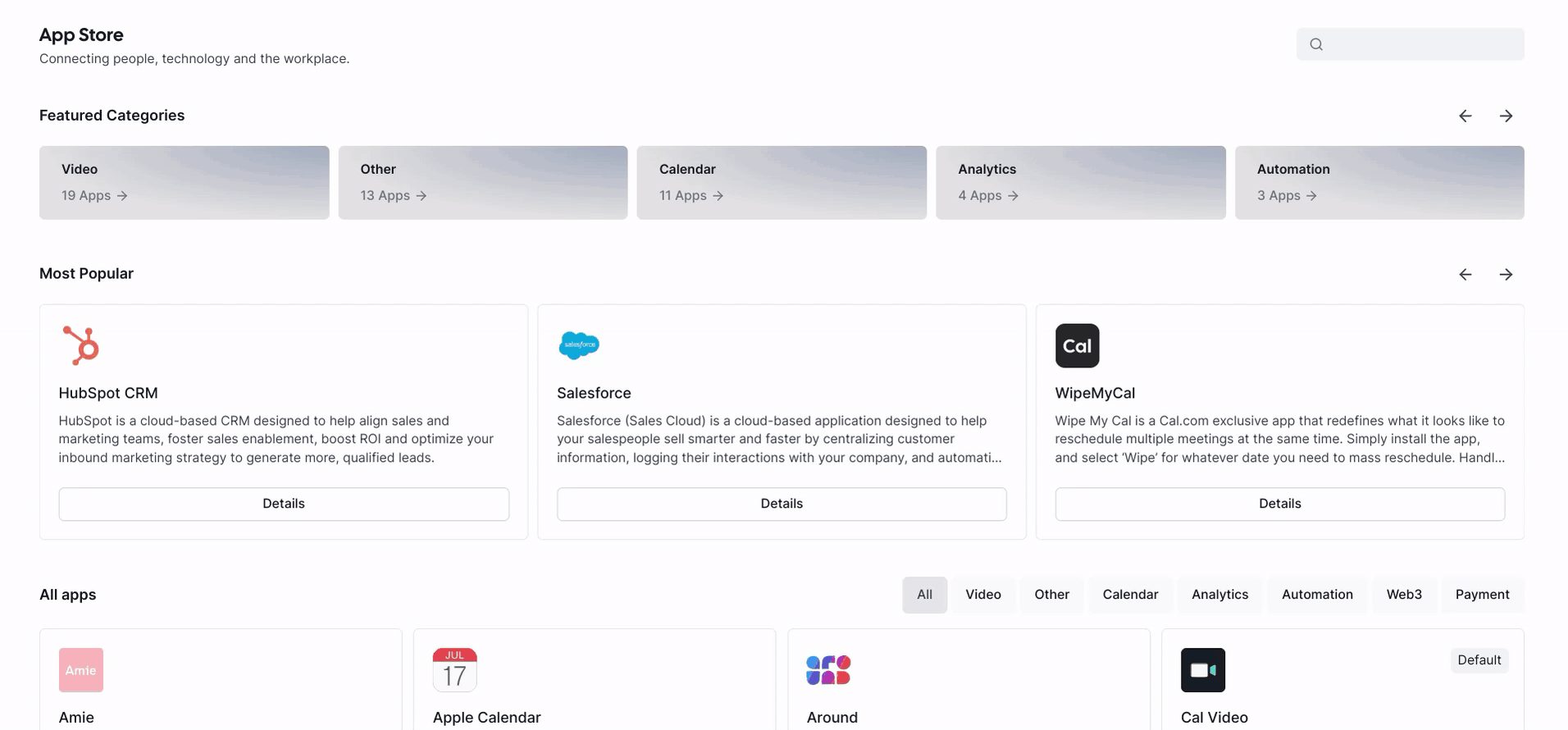 How to connect FaceTime to your Cal.com account
Log into your Cal.com account.

Select the Apps tab.

Choose the Video category.

Select FaceTime.

Click the Install button.

Go to your events.

Create a new event or choose a previously created event.

Go to the location drop-down menu and select FaceTime.

Paste your FaceTime meeting link into the specified field.

Finally, click the Save button in the upper right-hand corner.
Using Cal.com with FaceTime is an easy way to make calendar scheduling part of your workflow. When people book a meeting, you pick up your iPhone, start your iMac, or open your MacBook. This app lets you utilize the power of calendar scheduling infrastructure while continuing to experience the Apple ecosystem you know and love. It's just one more way that Cal.com takes the stress out of scheduling.

Let people book when it
works for both of you