Monday, September 25, 2023 · 7 min read
What is Workflow Automation? (And Why Does it Matter?)
Workflow automation is when you use software to execute step-by-step business processes instead of doing them manually. The idea is that these processes can run without (or with minimal) human intervention.
Workflow automation has its roots in manufacturing and the machine-based automation that followed the Industrial Revolution. Today, it involves AI or rule-based logic—computers are programmed with "if this, then that" instructions so a specific action triggers a particular task.
Now that we've answered the question "What is workflow automation?", the next one is, "Why does it matter?". Just as with all forms of automation, it saves you time and money. Let's look at what workflow automation can do for your business.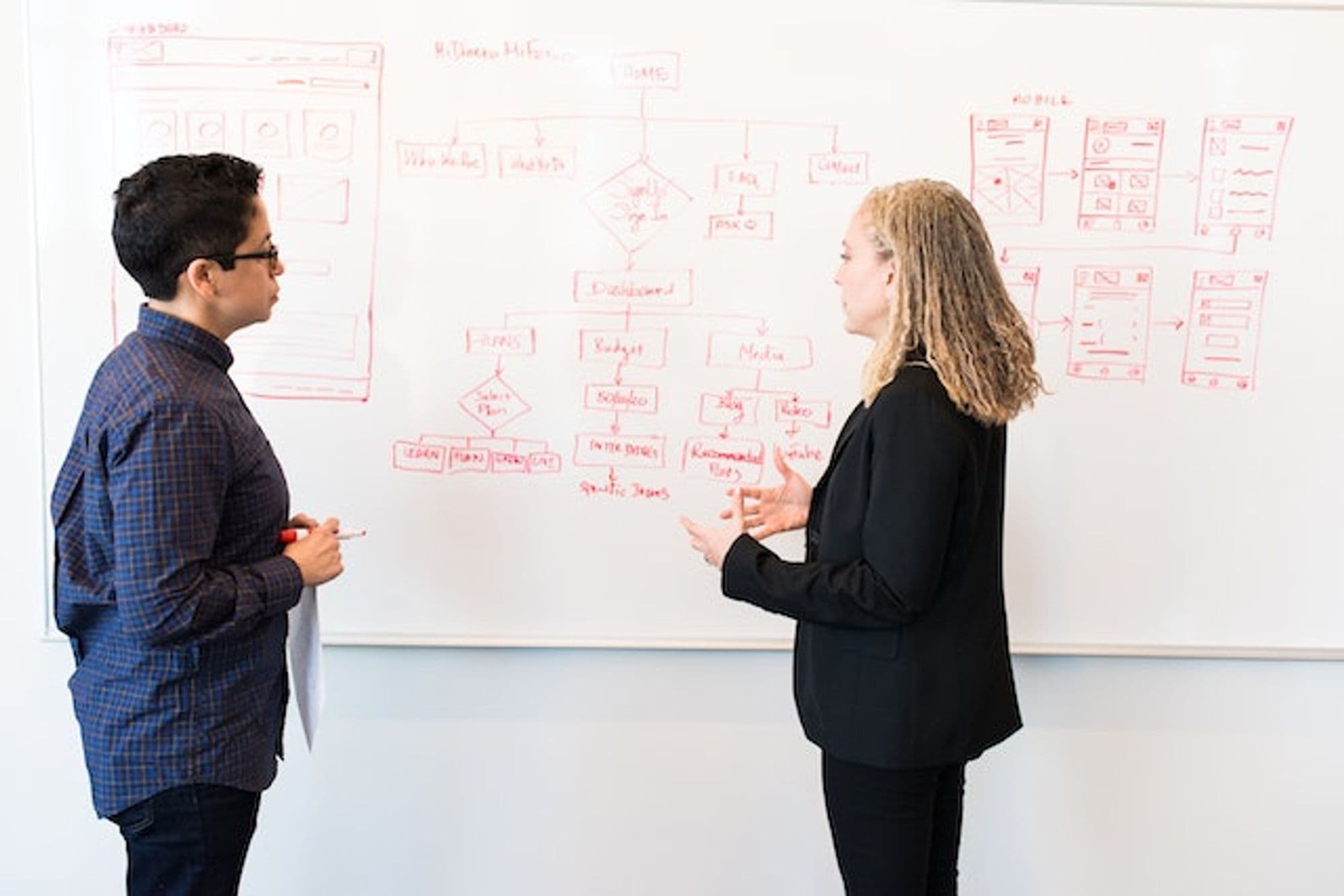 Free to use image sourced from Pexels
Benefits of workflow automation
Workflow automation brings many benefits, from avoiding tedious tasks to saving money through efficiency.
Increased efficiency and productivity
70% of business leaders believe that up to 40% of their time is devoted to mundane tasks. That could be as much as three hours of an eight-hour day. Even if your stats aren't as scary as that, automating your workflows will surely make you more efficient.
Automated solutions work faster than people do. They take care of the basic stuff so humans can focus on tasks requiring more skill. With software helping out, your employees can get more done daily—and you don't have to hire many new staff as your business grows.
You can also standardize your processes through workflow automation. Instead of employees interpreting or choosing a task, everyone is guided through an approved way of working. This helps you to stay compliant with your own policies and industry legislation.
Workflow automation gives you increased scalability, and once you've optimized your processes, you can take on more work and more clients. With the right software, you can connect multiple applications in one workflow and even integrate with legacy systems instead of replacing them altogether.
Error reduction and decreased manual work
Like any form of automation, automated workflows reduce the need for repetitive manual labor, such as data entry and task assignment. They're programmed to launch actions automatically when a trigger occurs—for example, generating a reminder message when an e-commerce customer doesn't complete checkout.
This saves time and prevents employees from becoming overwhelmed by tedious and time-consuming tasks. They can focus on projects that require skill and creativity, and there's less risk of them suffering from stress and burnout.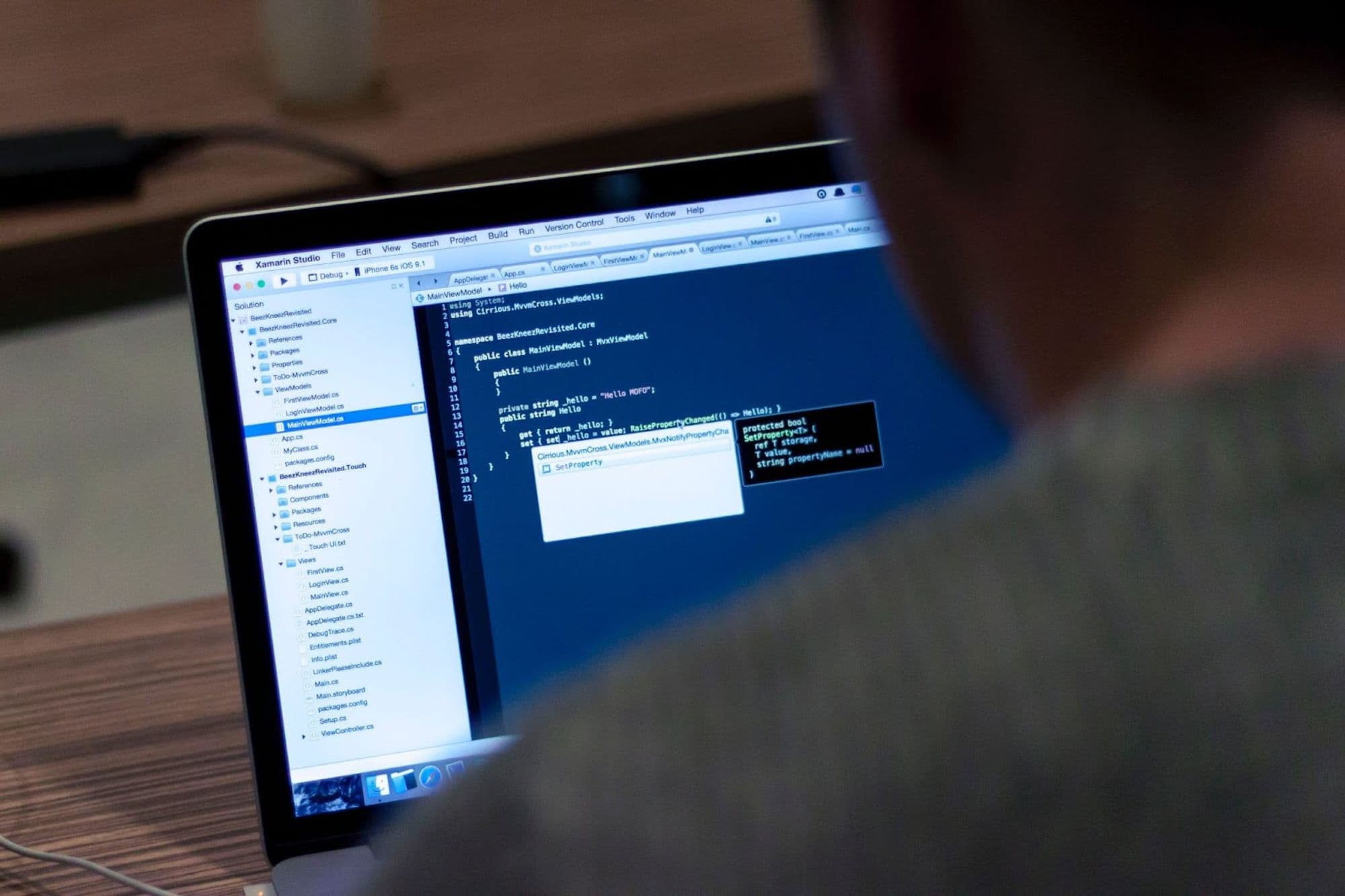 Free to use image sourced from Unsplash
With a decrease in manual work comes a reduction in human errors. Provided you've programmed them accurately in the first place, automated workflows eliminate mistakes caused by unclear instructions or lack of concentration. You'll also reduce the rework costs associated with errors.
Automation platforms give you extra visibility into your operations. For example, you can automatically log and record all the actions in a process, enabling you to review and audit the procedures later. This helps to make sure you stay compliant with relevant regulations.
Improved communication and collaboration
Workflow automation improves communication by clarifying each stage of a process. Everyone understands their responsibilities, with no need for questions or arguments. Project management is made simple with automatic assignment of tasks and deadlines and a log of each completed task.
The system notifies team members when something needs to be done so managers and colleagues don't have to remind each other. Team members are only tagged in when necessary, meaning that nobody is distracted by irrelevant notifications.
Regarding collaboration, workflow automation platforms make connecting employees from various teams and departments easier. Visual design tools help you configure a workflow that brings these different users into a single process and shares relevant data.
Apart from internal comms, automated workflows also benefit customer communication. For example, automated call distribution and self-service tools such as chatbots help support agents respond to more queries.
Common workflow automation tools and technologies
There are two main types of automation workflow: business process workflows and robotic process workflows. The former are often used in business process management (BPM), which evaluates and optimizes processes to help reach business goals. This tends to focus on end-to-end processes.
Robotic process automation (RPA) involves robots performing specific tasks. For example, data-syncing across applications—you could set up the workflow to pull all data into your ERP solution to see instant business insights without employees having to search for it.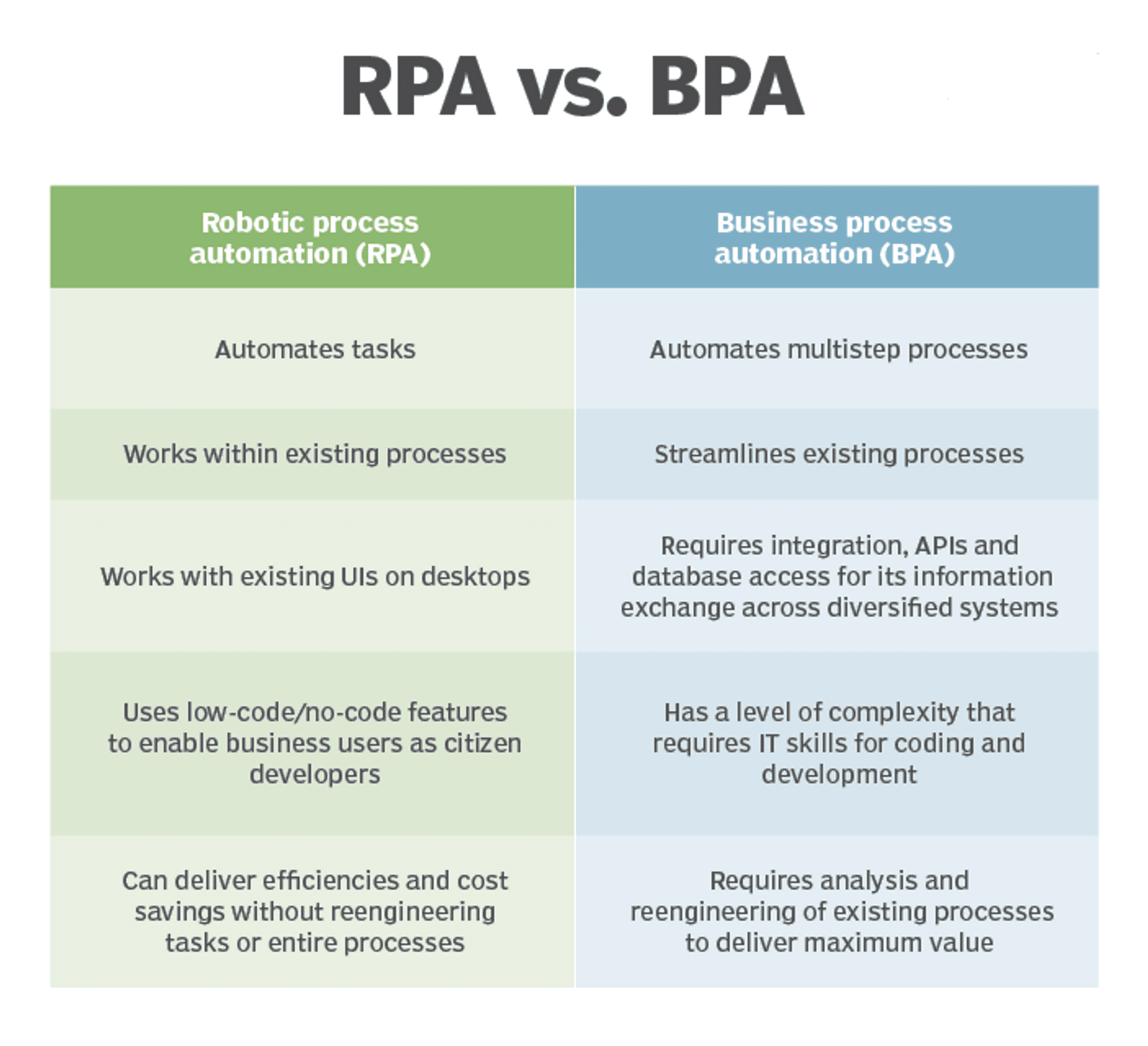 Image sourced from techtarget.com
Workflow automation software usually has low-code features that enable users to design and automate workflows. The drag-and-drop capabilities mean that employees don't need extensive programming knowledge to use the software.
Instead, you can "draw" workflows with visual design tools, like creating a flowchart. You can place "nodes" along the workflow to automate various tasks and integrate systems and data. Some workflow automation tools also come with AI capabilities that make recommendations for workflow optimization or suggest the "next best action" for users.
Workflow automation software is usually sold as a SaaS (software-as-a-service) application. Popular examples include Microsoft, IBM, and Zapier. Some providers offer function-specific tools, such as automation for customer service or appointment scheduling. It's also possible to get real-time insights with workflow analysis tools.
Key industries and use cases for workflow automation
As you might imagine, this technology applies to various industries and operations. Here are some workflow automation examples:
Sales: You can set up rules that trigger actions when a customer takes a specific step—for instance, notifying a sales rep when someone completes a signup form or automatically creating a new customer record. Automation is also used for follow-ups and lead qualification.
Marketing: You might design workflows to post content on social media or send promotional emails to a specific segment. The system can automatically gather data to analyze a campaign's success.
HR: Automation helps with tasks such as screening resumés, sending onboarding information, pulling data from time-tracking tools into payroll, and approving vacation requests.
Customer Support: Set up workflows to ****create and ****prioritize tickets or send out customer surveys at the end of each call. Other examples include rule-based or AI-powered call routing and IVR menus that send customers to the correct agent or department.
E-commerce: Order management applications can automate the entire process, from real-time inventory tracking to supplier payments. As soon as a customer places an order, the system generates picking and packing instructions and a shipping label.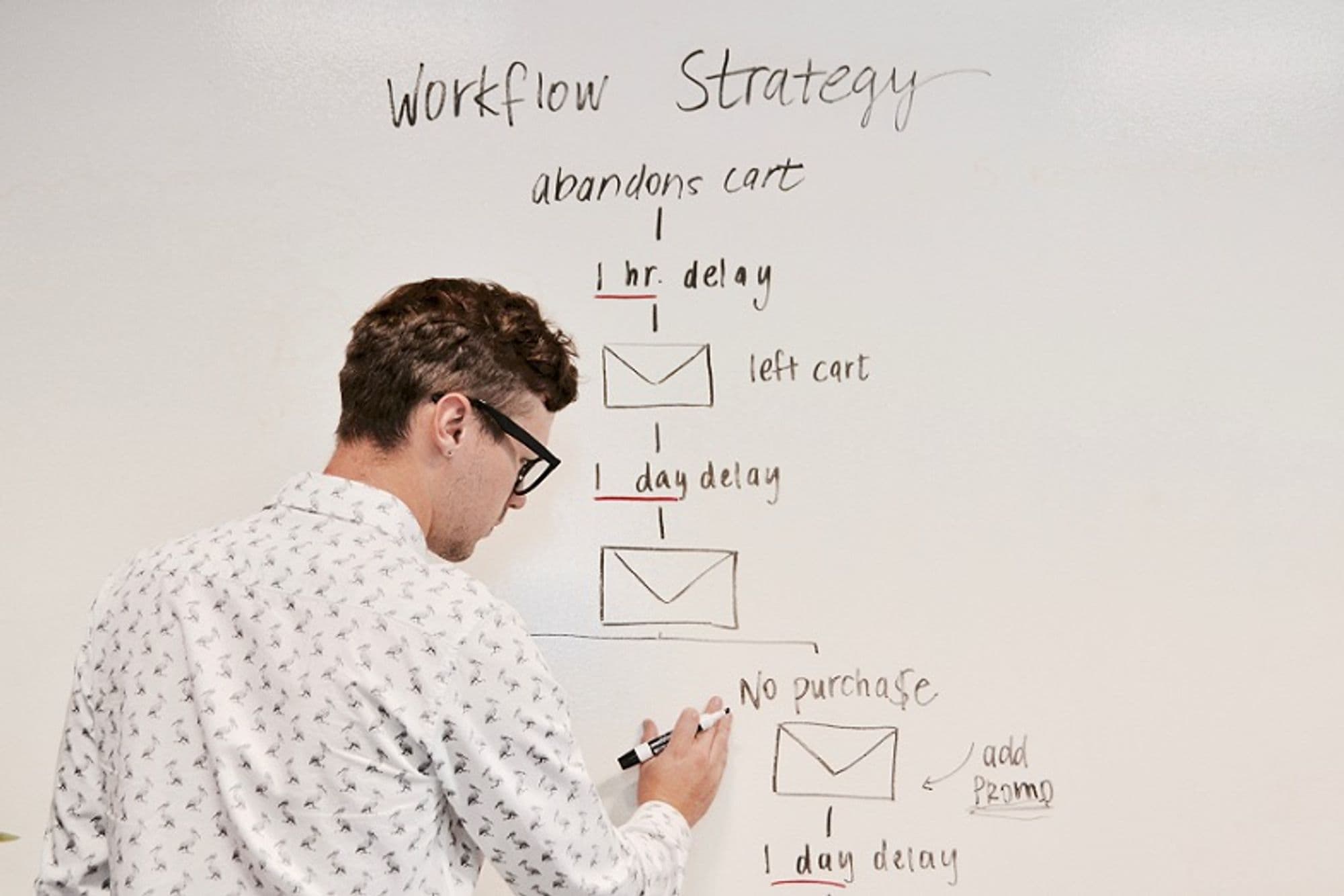 Free to use image sourced from Unsplash
Finance: Accuracy is critical in finance, and workflow automation helps you stay consistent and compliant. You can program the system to make forecasts, send invoices and purchase orders, and automatically reimburse employee expenses.
DevOps: Workflow automation enables more precise communication channels between developers and operations and reduces bottlenecks caused by siloed departments.
Manufacturing: Automation improves quality control and reduces approval and cycle times for purchasing and supply chain operations. You can also automate workflows in product development.
IT operations: Well-designed workflows help your IT team manage network users across multiple departments. You might use automation for password resets and the deployment of services and updates.
Security: Automatically monitor cyber threats, generate incident reports, and integrate the system with existing security tools.
Challenges and considerations in implementing workflow automation
One of the key challenges is that your employees will have concerns about being replaced by robots. You'll need to reassure them that automation will enhance the workplace rather than take over entirely and that humans will be redeployed to higher-value tasks that utilize their skills.
Some staff may also resist new technology and a different way of doing things. Again, explain how streamlining will benefit everyone and offer full training on the new software. Most workflow automation tools are easy to learn and use thanks to the low-code, drag-and-drop features.
Ensure that the software you choose integrates smoothly with existing systems and offers robust security and customer support.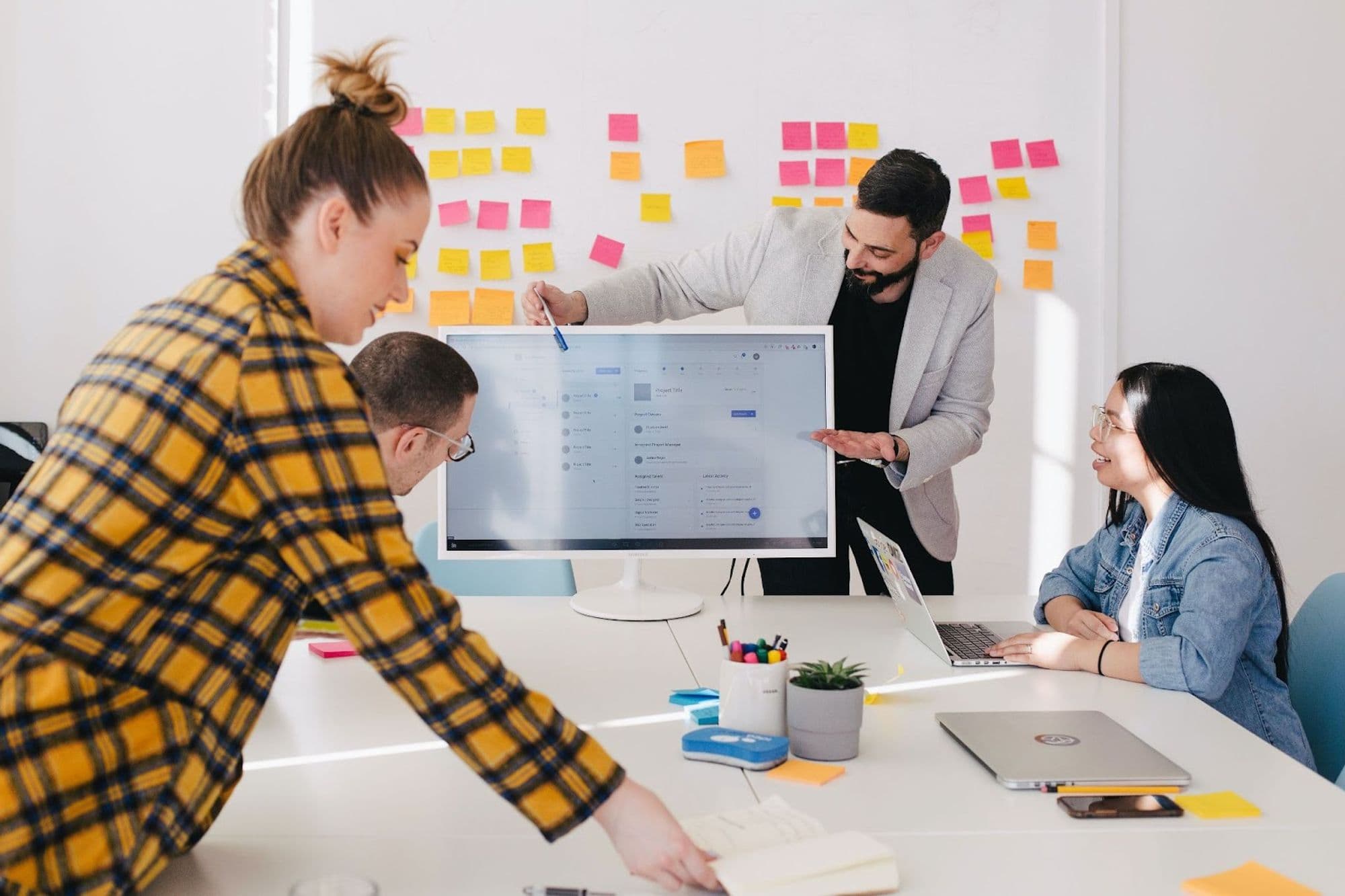 Free to use image sourced from Unsplash
Future trends and innovations in workflow automation
We've already mentioned low-code and visual workflow automation, which will likely continue apace with more software vendors adding this capability to their offerings. This democratizes workflow creation and enables a more collaborative system where all users can suggest improvements. We can also expect an increase in templatized workflows that speed up future automations.
As with most areas of business, AI is a key trend. It can suggest optimizing workflows and prioritizing tasks based on data patterns and machine learning. Predictive and real-time analytics are ideal for agile businesses, as they let you make constant improvements. For example, AI-powered tools can pick the best candidates to speed up recruitment.
With remote and hybrid working on the rise, there's a risk of employees feeling disconnected. Workflow automation can step into the breach, making it easy to perform collaborative tasks remotely. This also helps to address a growing skills gap and the associated productivity issues.
Key takeaway
So, we've now answered the burning question: "What is workflow automation?". Once you understand how it works, it's clear that this technology has enormous benefits for all kinds of workplaces. It simplifies and streamlines business processes, leading to a boost in productivity and lower operational costs.
Automation handles basic, repetitive, low-value tasks, while AI can get involved in intelligent decision-making. Employees can use their skills for more rewarding work, giving them (and your customers) a better experience.
Let people book when it works for both of you